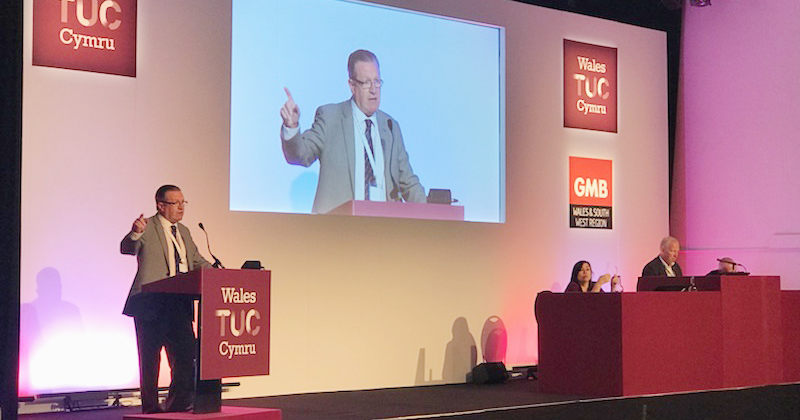 Delegates at the Wales TUC conference 2018 have unanimously backed a Nautilus call for the government to stamp out unfair competition in the ferry sector.
The meeting voted in support of a motion tabled by national ferry organiser Micky Smyth urging action to enforce the National Minimum Wage and work permit rules for all seafarers working in UK waters.
He told the conference that legal loopholes allow seafarers to be treated as 'second-class citizens' and denied many of the workplace protections that cover staff on land. 'This enables shoddy operators to undercut good companies, opening the door to nationality-based pay discrimination and fuelling the catastrophic long-term decline in our maritime skills base,' he added.
'Our ferry services should be the bedrock of decent employment and training for British seafarers,' Mr Smyth added. 'They shouldn't be exposed to lowest common denominator global competition. There should be no room for south-east Asian or eastern European wage rates on ferries serving Welsh ports. We should be using these services to protect and develop this country's long and proud history of maritime expertise.'
Nautilus also seconded a motion from the RMT union calling for talks with the Welsh government on ways to link public investment in ferry services to higher rates of training and employment for Welsh maritime workers. Mr Smyth told the conference: 'When I first went to sea in 1980 there were 51,000 UK officers and ratings in our Industry plying their trade in delivering goods and passengers across the globe. However, since then we have seen a dramatic decline in our numbers and the recent statistics from the Department of Transport show that our numbers have dropped to just under 20,000.
'The main factor in this decline has been a concerted campaign by certain shipowners and operators to eradicate the British seafarer,' he added. 'In the main, the jobs we lost are still there – but it's been a race to the bottom with seafarers being exploited by being paid well below the British rates of pay.'
---
Tags