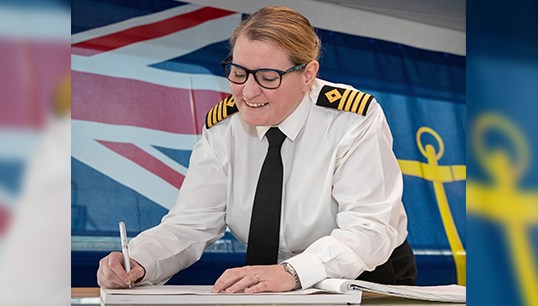 Nautilus has added its warm congratulations for member Captain Susan Cloggie-Holden's achievement on assuming command of the Royal Fleet Auxiliary's RFA Tiderace vessel, becoming the first female commanding officer in the 116-year history of the RFA.
'For just over 20 years my career ambition was to be the captain of a RFA [vessel], today that dream came true,' said Capt Cloggie-Holden via Twitter, after a handover on 3 February 2021.
'I feel very privileged to have the opportunity of taking command of a vessel of the Royal Fleet Auxiliary – it is a pivotal moment,' she added in an RFA statement.
'When I commenced my career as a cadet there hadn't been any female senior officers, therefore I feel honoured to be the first female captain in the Royal Fleet Auxiliary.
'I hope that this will provide all women within the organisation to aspire to achieve whatever they put their minds to.'
Congratulations flowed as the news broke on social media for the Union's long-standing Glaswegian member and strong advocate for women in maritime.
The former head of the RFA, Commander Duncan Lamb, tweeted: 'Great news. BZ @eiggolc @RFATiderace and @RFAHeadquarters - first female RFA Commanding Officer but will not be the last.'
Nautilus head of strategy and policy Debbie Cavaldoro also paid tribute via Twitter: 'Fabulous news. Where you lead others follow.'
Capt Cloggie-Holden is a long-standing advocate for women at sea. She was the first Royal Fleet Auxiliary Female Champion; chairs the RFA Women's Network; has set up a female-to-female mentoring scheme across the RFA; and was a founding member of the Maritime UK Women in Maritime Taskforce. In 2019, she was named the Global Seafarer of the Year at the Lloyd's List Europe Awards.
Originally from Drumchapel, Capt Cloggie-Holden's RFA career began in September 2000 after studying at Glasgow College of Nautical Studies. She is married to Captain Peter Holden, who retired from the RFA in 2019 after commanding helicopter training ship Argus.
Since her career began Capt Cloggie-Holden has travelled the world and taken part in military and peacekeeping operations including the initial campaign against the Taliban in 2001-02 (Operation Veritas); supporting the post-Saddam Iraqi Navy in 2006-07; conducting counter-piracy operations in the Gulf of Aden at the height of the scourge in 2008-09; and navigating supply ship RFA Fort Rosalie as it provided support to RN vessels involved in operations off Libya in 2011.
RFA Tiderace, a 39,000 tonne Tide-class tanker, has spent the past six months supporting Royal Navy operations in home waters after a refit in Liverpool, with Capt Cloggie-Holden serving as the tanker's second-in-command before stepping up to the number one role aboard. She now formally takes charge from her predecessor Captain Angus Bissell.
---
Tags