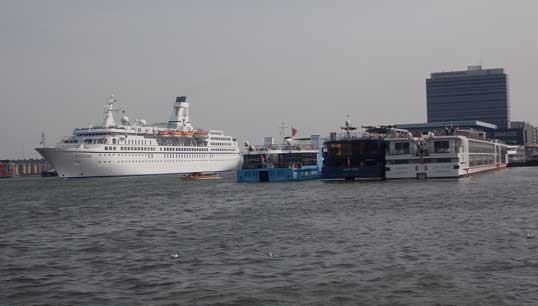 For the first time in months, Amsterdam is expecting a river cruise ship on 20 June. The port of Amsterdam will allow river cruise ships again under strict conditions laid down in the IG Rivercruise and EBU guidelines.
The emergency ordinance allows river cruise to resume with a maximum of 30 people on board. Shipowners must comply with national regulations, such as a one and a half metre clearance and additional hygiene measures.
'Shipping companies must comply with our national guidelines in order to operate safely and responsibly,' Port of Amsterdam Commercial Manager River Cruise Monic van der Heyden said on its website.
'To facilitate this, we have also taken a number of measures. For example, we now can only allow the so-called bicycle holiday ships. This category of smaller river cruise ships operates with smaller groups and is therefore optimally equipped for this situation.'
Not by bus, but by bicycle
An additional advantage is that the guests of these ships do not arrive by bus, but by bicycle and the ships leave almost immediately after passenger arrival. The port of Amsterdam is expecting a maximum of five bicycle holiday ships this month.
There are footpaths, traffic signs and stewards at the jetties and quays to help guests comply with the guidelines. The Port of Amsterdam will evaluate how things are going per trip. In addition, the Port Authority works closely with the municipal health service.
Ms Van der Heyden cannot estimate how many river cruise ships will call at Amsterdam this year. 'We don't know yet,' she says. 'At the start of the Corona pandemic, a number of shipping companies cancelled all their bookings until the end of 2020. Another part is still dealing with this, and some of them will only become active after July 1, when companies are allowed to carry up to 100 passengers.
The ships can moor at the same place where they are always did in Amsterdam. 'However, because of the measures and the small number of ships, we will only use half of the piers for this purpose. On the Westerdoksdijk, for example, there will be a maximum of one ship at anchor, naturally with shore power'.
Sea cruises
Sea cruise ships are not expected to resume operations for the time being. 'Even if the next expansion to 100 passengers comes into force on 1 July, the sea cruise will not yet be able to start. So I do not see that happening for the time being. The next liberalisation will give larger river cruise ships the opportunity to start. At the moment we do not know how much enthusiasm there is for this.'
(Source: Binnenvaartkrant, 11.6.2020)
---
Tags