Nautilus news
100 days on from P&O Ferries mass sackings and government actions simply not enough
23 June 2022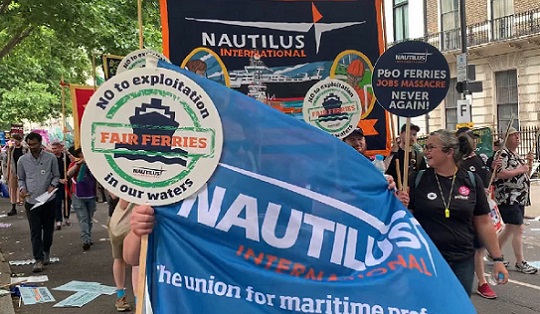 Friday 24 June marks 100 days since P&O Ferries illegally and cruelly sacked 786 seafarers without any notice or consultation.
In response to P&O Ferries' actions, the Secretary of State for Transport Grant Shapps announced his nine-point plan that was designed to 'force P&O Ferries to rethink and ensure this can never happen again'.
One of the actions contained in the nine-point plan, and a major focus of government action thus far, is to give powers to harbour authorities to refuse access to vessels whose operators do not pay their seafarers the National Minimum Wage. This would expand the coverage to include seafarers on vessels on international voyages, which were not covered by the 2020 amendments.
Nautilus supports efforts to expand the national minimum wage to seafarers on ferries operating in UK ports. However, our members at P&O Ferries benefited from union negotiated pay and conditions through a collective bargaining agreement the company illegally and unilaterally trashed.
P&O Ferries' actions have turbo-charged a race to the bottom in pay and conditions of seafarers across the ferry sector not just in the UK but in Europe. Reversing this must be the focus of government actions, not just through regulating a minimum wage. Currently, government actions are simply not enough to end this disastrous race to the bottom.
Nautilus and industry representatives have developed a Fair Ferries strategy that would ensure minimum standards in pay and working conditions are reflective of local conditions not international minimums. This would ensure a genuine level playing field across the ferry sector and provide support to the governments levelling up agenda. We urge government to implement Fair Ferries legislation now.
Nautilus general secretary Mark Dickinson said: 'P&O Ferries has acted disgracefully, and government must ensure these actions don't precipitate a nosedive in job security, pay and working conditions for our maritime professionals in the ferry sector. Our Fair Ferries strategy is a concrete proposal that if implemented in full will benefit seafarers on domestic and international voyages and would, as the Transport Secretary has said, force P&O Ferries to rethink and ensure this can never happen again. Government must enact Fair Ferries legislation now!'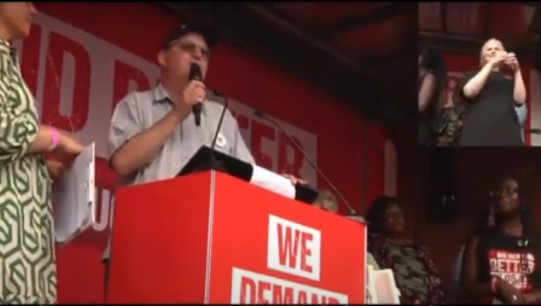 We demand better!
Nautilus general secretary Mark Dickinson addresses crowds at TUC 'We Demand Better' rally in central London July 2022
Watch now
---
Tags