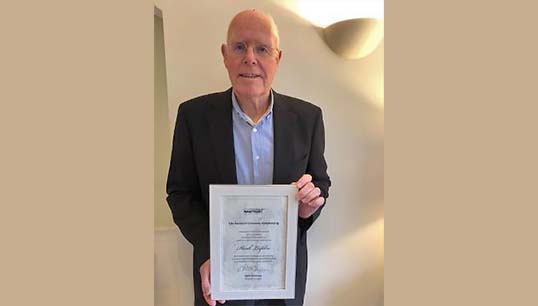 I am sorry to be starting the New Year with sad news, but I have been advised by his family that former Nautilus trustee director Henk Lafèbre died on 21 December after a brave battle with cancer.
Henk's background was as a partner at KPMG from 1984, moving to the firm's London office in 1991. He retired 10 years later in 2001. He was chair of the Netherlands British Chamber of Commerce and became a Nautilus trustee in 2009 when Nautilus UK (NUMAST) and Nautilus NL (FWZ) merged to form Nautilus International.
In 2017 Henk became chair of the trustees, and he remained in that post until he stood down as a trustee director in November 2021.
At his last meeting, the Nautilus International Council acknowledged that Henk had made an invaluable contribution to the Union, providing deep insight and knowledge, and giving careful oversight of our activities by deploying his deep understanding of finance and organisational matters. In recognition of this, the Council awarded him honorary membership.
Henk will be greatly missed by his family and all those at Nautilus International who knew and worked with him.
Mark Dickinson
General secretary
Nautilus International