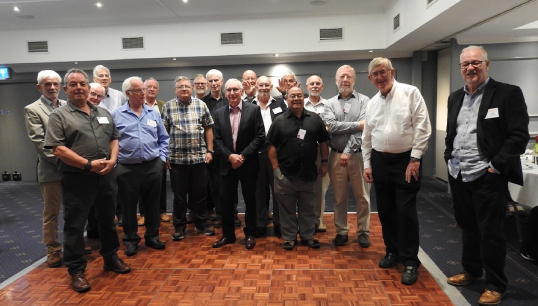 What started as a 50-year reunion of the 1970 Plymouth School of Maritime Studies intake of Phase I engineer cadets, twice cancelled due to Covid, eventually came to fruition as a 1972 leaving Plymouth reunion
We eventually contacted 30 from 65 known names, of which 24 plus partners attended the weekend, some flying in from around the world.
The weekend started, on the Friday evening, visiting old haunts around Plymouth and culminating with an evening buffet at the Roundabout bar to reminisce.
Saturday morning we enjoyed a boat trip from the Barbican round Plymouth Sound, with the afternoon free to visit the many attractions of Plymouth.
In the evening we had dinner, followed with entertainment from the sea shanty band The Stowes at the Copthorne Hotel, where we attempted the Doxford Song and Dance. The performance and hilarity broke down all inhibitions and made the evening a great success, with everybody staying till the bar closed.
Sunday morning we met at the MN memorial on the Hoe where a wreath was laid in memory to colleagues that have gone before us.
The weekend was deemed a success, much to the relief of our organiser Jim Halligan and myself, his backer, who could now pass the mantle on to somebody else to organise the next event for those that were unable to attend this one.
Mark Wilding