Maritime non-fiction / War history
Seafarers' voices from the Second World War
Naval Eyewitnesses, by James Goulty
Landing page image: the merchant vessel SS Kirkpool, which was torpedoed in the South Atlantic in 1942. Image: City of Vancouver Archives
Life at sea in the 21st century is incredibly varied. War at sea in the 1940s was just as diverse, depending on where you served, your rank, your role, and your vessel.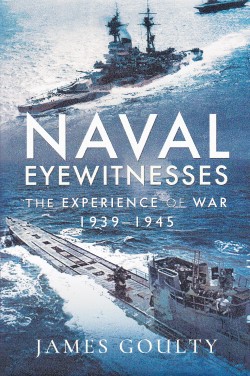 Most histories, biographies and memoirs tend to focus on a particular kind of vessel or the trials faced by an individual or ship, but if you are looking to get an idea of the wide-ranging experience of British mariners during the Second World War, then this new book written and compiled by James Goulty offers a fine overview.
The book is divided into chapters based on these different wartime experiences: Big Ships and Smaller Vessels, Naval Aviation and Aircraft Carriers, Underwater Warfare and Anti-Submarine Warfare, Amphibious Warfare, and more. There is also a full chapter about the end of the war, which includes reflections by participants on what they had undergone.
Much of the text is descriptive, but almost every page includes a quote from a serving seafarer (and also from other personnel, such as the Wrens). These are drawn from naval histories, reference books, personal memoirs and oral testimony, and cover most aspects of life in the Royal Navy and Merchant Navy – including, of course, combat. The book also helps to orient the reader in the period with a timeline, glossary of terms, and a selection of original photographs.
As might be expected from a book focusing on a conflict, most of the content is about the experiences of personnel in the Royal Navy. However, the tremendous sacrifices made by merchant seafarers and their vital war-winning achievements are fully acknowledged from the very first page of the preface.
There is a substantial section about their experiences at war in the chapter about the Atlantic and Arctic Convoys. There is also a full chapter about discipline and morale onboard, which outlines the importance of discipline in the Merchant Navy (especially for those young men who enlisted with a view to embarking on a career at sea), and merchant seafarers also appear in the chapter covering demobilisation.
This book is the Nautilus Books of the Month for May 2023, and will be sold at a discount in the Nautilus Bookshop throughout the month
Naval Eyewitnesses: The Experiences of War 1939-1945
By James Goulty
Pen & Sword Books, £25
ISBN: 978 13990 00710
Buy this book in the Nautilus Bookshop
While you're there, why not browse the rest of the titles in our unique maritime bookshop, which sells all the books reviewed on these pages.
Buy now