Maritime non-fiction / Memoir
Excellent engineer memoir tells a lesser-known seafaring story
In the Treacle Mine by JW Richardson
Landing page image: Ship's engineer in engineroom. Image: Getty Images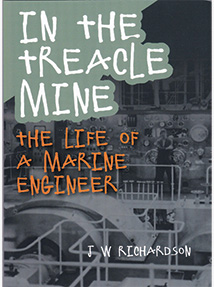 Young John Richardson was a great steam train enthusiast in the 1950s and 1960s, but by the time he was preparing to leave school, it was clear that a career on the old rail locomotives would not be on offer for much longer.
However, a somewhat reluctant trip to his school library revealed that steam engines were still in use onboard ships, and thus began a distinguished career in marine engineering.
Starting with his college days at Poplar Tech in London, In the Treacle Mine follows Richardson's seafaring years as he rose through the ranks on Esso and Mobil tankers and ended up as a chief engineer on a variety of vessels including Hoverspeed's Seacat channel ferries – finally coming ashore as a surveyor in 1993.
The memoir includes some familiar tales of life at sea, with all the quirky characters and interesting places you'd expect. But what really stands out is how well Richardson communicates his passion for engines and engineering, writing of his work in an engaging and accessible way that could well inspire others to follow in his footsteps.
As the author himself says, he is filling a gap in the market by doing this, because most seafaring memoirs are by deck officers. Publisher Whittles has also done Richardson proud with solid editing and presentation, including a photo section and a useful list of all the ships the author served on.
In the Treacle Mine
By JW Richardson
Whittles Publishing, £16.99
ISBN: 978 18499 54884
This book is the Nautilus Book of the Month for June 2022, and will be sold at a discount in the Nautilus Bookshop throughout the month.
Buy this book in the Nautilus Bookshop
While you're there, why not browse the rest of the titles in our unique maritime bookshop, which sells all the books reviewed on these pages.
Buy now