Maritime non-fiction / Shipspotting
Fond look at historic ship that ran out of luck
PS Ryde, by Richard Halton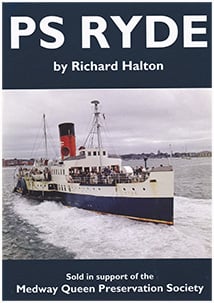 The beloved paddle steamer Ryde ran a ferry service to the Isle of Wight from 1937-1969, with an interlude of service in the Second World War and a later life as a hospitality and entertainment venue – known at one point as a 'boatel'.
Attempts to restore PS Ryde as a museum were pursued from the 1990s onwards, but recently had to be abandoned as the fabric of the ship had decayed so much. So instead, this enjoyable illustrated history has been produced as a tribute to the vessel's eventful career, and proceeds will go towards the effort to restore another historic ship, the Medway Queen.
PS Ryde
By Richard Halton
Mainline & Maritime, £14.95
ISBN: 979 19003 40946
Buy this book in the Nautilus Bookshop
While you're there, why not browse the rest of the titles in our unique maritime bookshop, which sells all the books reviewed on these pages.
Buy now