Maritime non-fiction / Guides and textbooks
Escape to a land of nautical legends
In the Wake of the Gods by Sam Jefferson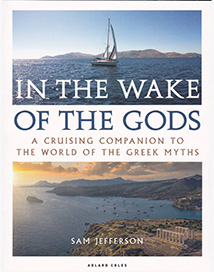 With all the grim news in shipping at the moment, sometimes you just need a nice book that reminds you what is appealing about the sea, and In the Wake of the Gods hits the spot.
The idea of the work is to take yacht sailors on a tour of the Greek islands which recreates the voyages of the ancients.
In chapters with names like 'Kardamyli, last resting place of the heavenly twins', mythical tales and beautiful pictures of romantic ruins are complemented by practical advice on matters such as navigation and mooring.
Whether or not you fancy trying the tour for yourself, this beautifully presented book provides some much-needed escapism and a reminder of how important seafaring has been through the ages.
In the Wake of the Gods: a cruising companion to the world of the Greek myths
By Sam Jefferson
Adlard Coles, £20.00
ISBN: 978 14729 75362
Buy this book in the Nautilus Bookshop
While you're there, why not browse the rest of the titles in our unique maritime bookshop, which sells all the books reviewed on these pages.
Buy now