Maritime fiction / Novel
Captain vs captain in a Titanic novel
Deep Sleep, by Paula Astridge
Described as the 'novel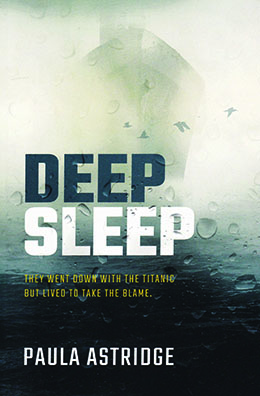 for the thousands of those who can't get enough of all things Titanic', Deep Sleep is a gripping read of fact-based fiction.
The author has an interest in the psyche of the 'heroes' and 'villains' who make history, and in this story she pieces together the careers of two Merchant Navy captains at the heart of the Titanic rescue, to try to uncover who was to blame for the delays.
An evocative parallel narrative is used to follow the careers of Captain Stanley Lord and Captain Arthur Rostron – both 'Bolton boys' who lived a street away from one another, although they never met.
Capt Rostron eventually sailed to the rescue in the Cunard's sturdy little passenger steamship Carpathia, and was hailed as a hero. Capt Lord – who was closer, but on the other side of the iceberg in the SS Californian – was vilified as the villain for seeming to sail on, despite his persistent efforts to clear his name throughout his life.
Their careers are nicely juxtaposed against that of a key eyewitness to the sinking: Titanic second officer Charles Lightoller. Having survived the disaster, he went on to fight his way though the First World War with distinction, and even in retirement he became a Second World War spy on a yacht with his wife.
The narrative also gives the perspective of the ship's naval architect, who spoke of his doubts about the wisdom of branding the ship 'unsinkable''And we hear of Sir John Latta, chairman of the Nitrate Producers Steamship Company, who saved Capt Lord's career, if not his reputation, by giving him a job. He believed Lord's account that his attempts to contact a ship in the distance were ignored, which is why he sailed on.
It's an interesting and entertaining story whether or not you're a Titanic aficionado, and the author does well to show how the course of events can hinge on something as small as the tying of a shoelace and the taking of a nap.
Deep Sleep
By Paula Astridge
Woodslane Press
ISBN 978 19258 68388
Buy this book in the Nautilus Bookshop
While you're there, why not browse the rest of the titles in our unique maritime bookshop, which sells all the books reviewed on these pages.
Buy now