Maritime non-fiction / Shipspotting
Shipyard story since the 1950s
Sietas and its Ships (Part 1) by Bernard McCall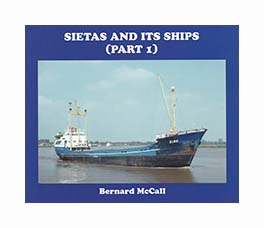 The JJ Sietas shipyard of Hamburg has been in operation since 1635. In this book, Bernard McCall doesn't go back quite that far – only to the 1950s when production increased – but there's still enough history to fill more than one volume.
In Part 1, McCall concentrates on cargo ships, with a few other vessels to show the variety produced by Sietas. 93 full-colour photographs show the shipyard's output – mainly coasters – and each picture is accompanied by a short but detailed account of the vessel history and fate. It's a pleasure to discover that some of the older vessels are still serving to the present day.
Regular readers of the Nautilus Telegraph's book review pages will be familiar with the good work of Coastal Shipping Publications. There's no doubt that this is a niche volume, as usual, but those who have served aboard a Sietas-built vessel or who are fans of the shipyard will be well satisfied.
Sietas and its Ships (Part 1)
By Bernard McCall
Coastal Shipping Publications, £16.50
ISBN: 978 19137 97010
Buy this book in the Nautilus Bookshop
While you're there, why not browse the rest of the titles in our unique maritime bookshop, which sells all the books reviewed on these pages.
Buy now