Maritime non-fiction / History
Scottish shipbuilding story continues
Leith-Built Ships Volume 2 by R.O. Neish
Like its predecessor – reviewed in the Telegraph in May 2020 – Leith-Built Ships Volume 2 tells the story of Edinburgh's once-proud shipyards and the vessels constructed there.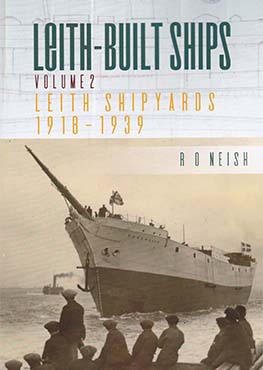 This time, the narrative moves on to the interwar years of 1918-1939, when the challenges of the Great Depression saw some of the shipbuilding companies having to amalgamate to stay alive, but substantial merchant vessels were still being built.
Some of these ships lasted until the mid-to-late 20th century, meaning that there are people alive today who served on them in their youth, and the book has some interesting quotes from former seafarers about their experiences onboard.
Author R.O. Neish is also able to share his own experiences of working in the Leith shipyards, which will surely come more into play in the upcoming volumes 3 and 4. But this is not just a memoir or collection of anecdotes; it is also a well-researched history generously illustrated with photographs and diagrams throughout, and includes a useful glossary of shipbuilding and nautical terms. We look forward to the next instalments.
Leith-Built Ships Volume 2: Leith Shipyards 1918-1939
By R.O. Neish
Whittles Publishing, £16.99
ISBN: 978 18499 54815
Buy this book in the Nautilus Bookshop
While you're there, why not browse the rest of the titles in our unique maritime bookshop, which sells all the books reviewed on these pages.
Buy now