Maritime non-fiction / History
Highly readable history of British shipbuilding's golden age
Leith-Built Ships Volume 1 by Ron Neish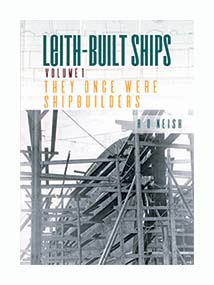 You could be forgiven for thinking that a three-volume series about the history of shipbuilding in the Scottish town of Leith might be of relatively limited interest. However, author Ron Neish ranges far and wide in this, the first in the trilogy, bringing in a broad and engaging spread of social, economic and historical themes.
Subtitled They Once Were Shipbuilders, the book covers the formative years of Leith's shipyards, running up to the end of the First World War. Whilst the Clyde is usually celebrated as the source of great ships, the book points out that Leith had been at the traditional heart of Scottish shipbuilding since the 14th century.
Ron Neish examines the factors which drove the rapid development of Leith's yards in the 19th century, including the American civil war, the whaling industry and the emergence of significant local shipping companies, such as Currie Line, Ben Line and Gibson Line.
However, Leith's yards were also able to secure a remarkable range of orders from around the world, with vessels going off to owners in such countries as China, the Philippines, New Zealand and Tasmania, or for service on the Orinoco or as a missionary vessel on the river Niger. One yard, R&F, also managed to secure a good chunk of the market for steam yachts, building around 90 of what were the superyachts of their time.
The book delivers some fascinating potted histories about many of the hundreds of vessels constructed in Leith during the 70-year golden period for British shipbuilding, noting that the yards were also responsible for some very innovative ships, such as one of the first to be designed with twin screws and one of the first with a triple expansion engine.
It all adds up to a very readable history, providing an excellent mix of social and political context to the technical and industrial achievements of the Leith yards.
Leith-Built Ships Volume 1: They Once Were Shipbuilders
By Ron Neish
Whittles Publishing, £16.99
ISBN: 978 18499 54433
Buy this book in the Nautilus Bookshop
While you're there, why not browse the rest of the titles in our unique maritime bookshop, which sells all the books reviewed on these pages.
Buy now