Maritime fiction / Novel
Fiction debut with humour and insight
Something in the Blood, by Phillip Messinger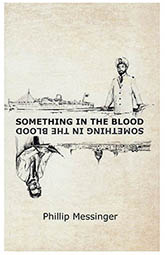 Phillip Messinger spent 24 years at sea, first as a navigating officer in the Merchant Navy then as a captain of chemical tankers.
He had a sideline as a reservist in the Royal Navy where he rose to the rank of Commander before ill health sent him ashore and eventually into a career in maritime consulting.
His self-published first novel Something in the Blood tells the tale of two mid-30s, mid-career professionals thrown together due to a medical emergency at sea. As they navigate a life or death situation, under pressure from a looming hurricane, both men are left questioning if they have followed their true path in life.
This is not your typical adventure story where the hero bravely faces down an external threat to save the day, handsomely pouting all the way. There is fear and real worry from our leading men – and a liberal dash of introspection – alongside the wry humour you would expect from a career crewman.
As you would expect from an author with a rich onboard experience, the 109-page novel has a liberal dose of technical jargon, enough to make any first engineer or second officer happy. The plain English explanations and pacey narrative will keep the lay reader onside too. All will shudder at the risks well-trained seafarers routinely take as 'part of the job'.
At times the narrative can lack subtlety; the author is at pains to explain to the audience what compels the main characters through inner monologue instead of letting the dialogue tell the story and leaving the reader to fill in the gaps. The book would benefit from culling chapter one and the postscript. But overall it holds together well.
There is a touching dedication to Messinger's wife and children for putting up with his years away at sea, and his son gets credit for the design and execution of the cover image.
Something in the Blood
By Phillip Messinger
Self-published, £8.00
ISBN: 978 16655 85781
Buy this book in the Nautilus Bookshop
While you're there, why not browse the rest of the titles in our unique maritime bookshop, which sells all the books reviewed on these pages.
Buy now