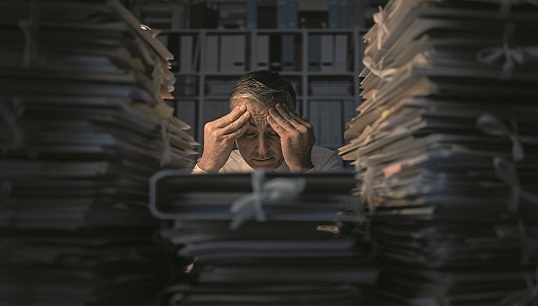 Shipmaster Nic Gardner is no stranger to the demands of safety paperwork onboard, and for her BSc dissertation she investigated the concept of 'safety clutter'. She explains what this means and how her research has revealed ways to tackle it
In 2018, an article in the journal Policy and Practice in Health and Safety labelled a concept seafarers are intimately familiar with: safety clutter. This is 'the accumulation of safety procedures, documents, roles and activities that are performed in the name of safety, but do not contribute to the safety of operations.'
Safety clutter is inexorably increasing at sea. Accidents, audits, and regulations increase it, and once there, it's hard to get rid of.
There is a body of work showing that excessive paperwork normalises falsification, and increases fatigue and human error – and worryingly, increased paperwork also gives more opportunities for criminalisation. In a 2019 seafarer survey by the Nautilus Federation, 46% of respondents believed incorrect paperwork was the most likely cause of seafarer criminalisation – and as safety clutter increases, this will only get worse.
The nature of safety clutter at sea
For my recent undergraduate dissertation, I surveyed seafarers, looking at the causes and impact of safety clutter in the Merchant Navy. While only a small survey, the results suggest that safety clutter does exist at sea, and some sources can be identified.
Not all paperwork and procedures are bad, of course, and some were found in the survey to be useful, including:
ship familiarisation (94.6% in favour)
risk assessments involving the people doing the job (87.5%)
standard operating procedures (83.9%)
informal risk assessments (82.1%)
onboard incident investigations (78.6%)
However, respondents objected to companies providing safety paperwork without adequate support and resources, and many identified specific sources of safety clutter, including unrealistic procedures, duplication, safety bonuses that encourage non-reporting, and non-ship-specific maintenance plans.
Effects of safety clutter at sea
Most survey respondents reported spending a lot of time on paperwork, and senior officers were the least likely to feel they had the freedom to do things they considered important to safety.
One response summed up many of the opinions expressed in the survey: 'There are practical limits to the amount of paperwork that can be done... procedures [should] truly add to the safety of the ship, not just make it appear more safe.' Others expressed cynicism and frustration with companies and systems, including suggestions that companies 'resolve safety issues in days or weeks instead of 6-12 months' and 'stop covering up'.
Several extended responses identified negative effects of paperwork, including mental health, workload, reporting, and pressure to falsify records:
'If we're going to be drowned in paperwork in the name of safety, there should at least be an offset that increases the quality of mental health'.
'How can we be more safe when we have so much work to do [and] are more fatigued and distracted by paperwork?'
Reducing safety clutter onboard
One safety manager identified barriers to paperwork reduction, including culture, compliance, and resistance to change. If this person could overhaul the system, they would reduce senior officers' paperwork, so 'the captain could work more with the chief engineer and the chief officer more with the second engineer on safety items', using the time to improve safety communication and cooperation.
They noted that, during a recent refit, the safety officer spent too much time on a computer. In response, they reduced the safety officer's paperwork, allowing them to spend more time with the workers. That led to measurable safety improvements, so they permanently removed the safety officer from 'things they're wasting their time on that an office should do'.
Avoiding safety clutter at sea
Poor implementation can ruin even useful paperwork and procedures, but there are some simple steps companies can take to avoid turning useful systems into safety clutter:
involve seafarers in developing onboard systems
ensure procedures are realistic and ship-specific
avoid duplication
provide prompt and meaningful responses to reports
provide resources, including equipment, training, and appropriate crew levels
ensure safety-related quotas or rewards incentivise desired behaviours
encourage a paperwork-reduction strategy
While some safety paperwork and procedures are essential, these responses should give companies food for thought, and colleagues at sea could also think about how they can reduce safety clutter.
If we're going to be drowned in paperwork in the name of safety, there should at least be an offset that increases the quality of mental health
Further reading
AJ Rae et al (2018). Safety clutter: the accumulation and persistence of 'safety' work that does not contribute to operational safety. Policy and Practice in Health and Safety, 16(2)
Nautilus Federation. (2019). An investigation into criminalisation of maritime professionals. Available to Nautilus members at www.nautilusint.org
A Cox et al (2008). What works in delivering improved health and safety outcomes: a review of the existing evidence. HSE Books
B Vandeskog (2015). The Legitimacy of Safety Management Systems in the Minds of Norwegian Seafarers. TransNav, the International Journal on Marine Navigation and Safety of Sea Transportation, 9(1)
A longer bibliography is included in Nic Gardner's BSc dissertation for the University of Sunderland.
---
Tags