Community
Veterans remember Merchant Navy sacrifices on Covid-compliant Arboretum visit
5 October 2020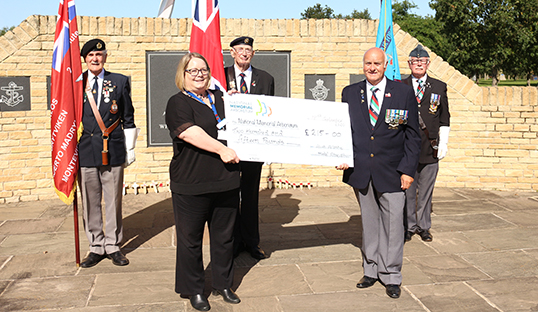 A group of British war veterans raised £215 for the National Memorial Arboretum through a raffle in September this year before setting off on a 'pilgrimage' to the Staffordshire site of remembrance.
The visit was organised by Nautilus member Keith Thompson, a Merchant Navy veteran of the 1982 Falklands conflict who served as a purser on the ferry Norland when it was requisitioned as a troop carrier.
'Working with the coach company and the arboretum and keeping to Covid rulings,
I took 60 veterans for a day out to the arboretum,' said Mr Thompson, who is based in Hull in NE England. 'I hired two coaches to give the veterans plenty of space, and arranged 60 packed lunches and afternoon tea.'
The veterans were from all four services, he noted, and had served in locations from the Far East to the Falklands.
'We held a service at the Falklands memorial,' he continued, 'and I made a speech regarding the role of the Merchant Navy in support of the armed forces in campaigns all over the world – and in particular the Atlantic Convoys and the Falklands.
'We must always remember the Atlantic Conveyor and the loss of Captain Ian North and 11 crew members; and also the Hull tug Irishman that towed the burnt-out hulk for three days as a decoy before she sank in the Atlantic Ocean.'
---
Tags