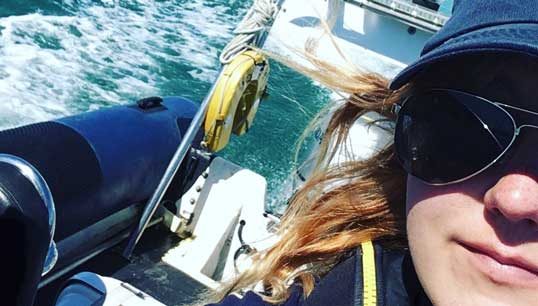 Do your research when considering a career at sea, tug AB Emily Reeves says. Speak to as many people as possible and work out what kind of ship you want to be on
What is a typical day in your job?
There isn't a typical day. Every day is different. Some days we may be standby for fire-fighting duties or engaged in all different types of towage. Even though tugs are smaller vessels we still have the same rules and regulations to follow as larger ships, so I can often be found checking safety equipment and doing our drills. I am currently working towards my Officer of the Watch (OOW), so that takes up some of my spare time.
Why did you choose a career at sea?
I originally started working in the ports, which I enjoyed, however I really wanted to be at sea.
Tell us some of your career highlights – and challenges – so far
Traveling to Australia to join a ship was exciting.
I also enjoyed my time working on the Dorset coast on pilot boats and tugs.
Passing my Boat Masters was an achievement and taking the boat out as skipper for the first time was a highlight.
Most crew members I have worked with are great and, as cheesy as it sounds, they do become your second family.
However, there are some challenges and some attitudes that still need to be addressed and changed. Unfortunately, some of these individuals are in a position of power.
How can seafarers be made to feel welcome and retained in a career at sea?
To be honest I think most just want to be treated fairly.
Most companies work contract to contract, so there is little chance of any maternity or paternity pay to enable people to stay at sea who have decided to start a family.
The old-school attitudes need to be addressed and changed, which they are… slowly.
---
Tags