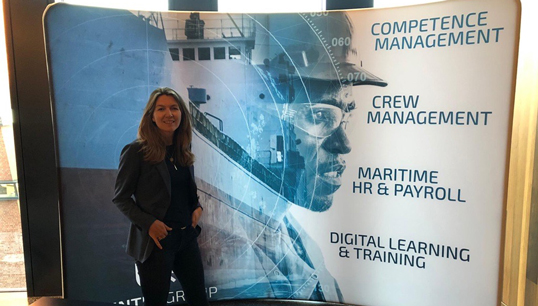 After decades of predictions that the future face of shipping will be female, the proportion of women in the maritime workforce remains stubbornly low. But the increasing use of technology could finally lead to a breakthrough, the 2021 Women in Shipping Virtual Summit heard. Deborah McPherson reports
Women could be the driving force in the digitalisation of the shipping industry – boosting their career prospects in the process. That was the powerful message from keynote speaker Jorunn Eldoy at the September 2021 Women in Shipping Virtual Summit.
Ms Eldoy, who is maritime lead for digital learning and human capital management company Mintra, told the summit the switch to remote working and automated processes removes some of the traditional employment barriers.
'Women have often ruled out careers in the sector because of family and home life commitments. However, if the future of maritime is an automated, digital one, then perhaps this will lead to an increase of women working in shipping,' she said.
'As many of the jobs undertaken by women are shore-based support roles utilising IT, software and analytics, I believe they also have a head start on developing the skills that will be essential in years to come, such as cyber security, blockchain and big data.'
Gender diversity data
Ms Eldoy highlighted some seemingly improved gender diversity statistics in the BIMCO 2021 Seafarer Workforce Report, which says the global supply of female STCW certified seafarers is 'increasing at a rapid rate' and calculates that it currently stands at 24,059, nearly double the 2015 figures.
Nautilus recently reported, however, that while this represents a significant rise in the number of ratings (including those in catering and hotel services), this is not matched by officers, with the number of female officers qualifying actually dropping in 2020.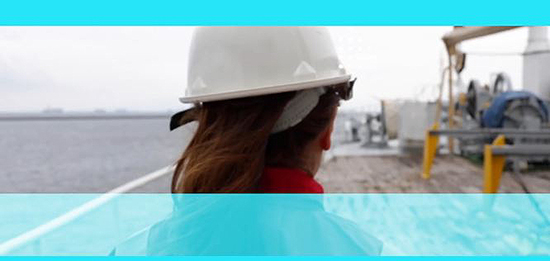 The latest BIMCO figures show that of the 24,000 female seafarers, little more than 7,000 are officers and some 17,000 are ratings, with the majority being found in the cruise and ferry sector.
Ms Eldoy acknowledged that these numbers are 'just a drop in the ocean when bearing in mind there are 1.89 million seafarers employed on internationally trading merchant ships'. That suggests that females make up just 1.2% of the global seagoing workforce, she added.
'There is, unfortunately, no reliable data that shows how many women are working in the shipping industry as a whole. We know there are higher numbers performing on shore roles, from ship managers to port authority staff, but even taking this into account, the industry is a heavily male dominated one.'
Energy sector synergies
Ms Eldoy pointed to the energy sector – 'an industry born in a digital age' – for clues as to what diversity in maritime might look like in the future, 'as there are many synergies between the two.'
Her company Mintra is a provider of the MIST course (minimum industry safety training) that is required for all workers on the UK continental shelf before they can go offshore, and the course data from 2018 shows that 3.5% of candidates were women. 'That percentage is not too dissimilar to that of women working onboard [UK offshore] vessels.'
'According to industry safety training organisation OPITO, females make up 25% of the workforce in the UK continental shelf – that includes both offshore and onshore roles – with the figure anticipated to rise to 30% in the next four years.
'Women in the energy industry are predominantly in onshore support roles, and I believe this pattern will also be reflected in maritime.
'As maritime moves into a new era, there is an opportunity to change the narrative of the past. We have a chance to take real steps towards equality because so many of us already have the skills, knowledge and knowhow that shipping needs to secure its future.'
All the factors for changing the demographics of the maritime workforce are combining in a perfect storm Jorunn Eldoy, Mintra
Diversification through digitalisation
And that future is digital, stressed Ms Eldoy. 'We are moving to a world where we can achieve diversification through digital transformation. Technology and new ways of working are transforming virtually every industry and in maritime the change is now happening at a rapid pace.
'From the optimisation of fleet services and training to cargo booking and logistics handling, digital solutions increase competitiveness and enhance operational efficiency. They support the environmental agenda and decarbonisation targets.'
As technology progresses, the maritime industry will need educated and trained employees who are up to date on the most current technology and management practices, she continued.
'The critics may say: well, just because you know how to set up and manage a database doesn't mean that you will be able to operate robotics for remote controlled ship maintenance. Of course that's true, and I'm not suggesting that at all. But what we do know is that women already have many baseline skills in technology.
'In our support roles such as crewing managers, logistics officers and administrators to name but a few, we're already used to handling things like software, cloud computing and analytics.
'It's known that in areas such as data science and cyber security, people can train and become proficient much more quickly than they would in traditional skills such as marine electrical engineering or geosciences.'
Ms Eldoy summed up: 'I believe we're at a watershed moment for women in shipping. A desire to be at home may no longer be an obstacle when a task ordinarily conducted onboard a vessel can be performed remotely from the shore. It will open up so many opportunities to women who would like to explore a maritime career but who have dismissed it out of hand because of family commitments.'
Workforce trends
Finally, workforce trends also show there is a real opportunity for women to break through, Ms Eldoy pointed out.
According to the BIMCO/ICS report, there is a current shortfall of over 26,000 STCW-certified officers, with predictions of demand continuing to outpace supply. It is also understood that the industry skills drain could be further compounded within the next decade, with around half the current workforce being eligible for retirement.
All of these factors – the need for technical minds, the falling numbers of male seafarers, the growth of onshore jobs through automated operations – combine in 'what can only be described as a perfect storm', she says.
'If this is not the moment for women to drive change in traditional maritime demographics and move the needle on workplace diversification, then I do not know when that moment will come.'
Jorunn Eldoy sits on the board of WISTA Netherlands, the Dutch branch of the Women's International Shipping & Trading Association – an industry body and networking organisation for women in maritime. Find out how to join your national branch via www.wistainternational.com
Broader benefits of the tech transition
It's not just women we could be seeing more of in the maritime workforce: other underrepresented groups could also see an increase in numbers if seafaring becomes a more tech-related profession.
For one thing, the more widespread use of remote-controlled vessels could allow for greater retention of experienced seafarers who have become disabled or acquired a health condition that prevents them from working onboard ship. In an operations centre for remote controlled vessels, an employee is still working as a seafarer, so their skills are not going to waste in this kind of move ashore.
Experienced deck officer Ann Till – who spoke at the 2021 Women in Shipping Virtual Summit – works for Ocean Infinity, which is developing a fleet of robotic survey and inspection vessels. She points out that the company's premises in Southampton are fully wheelchair accessible, unlike the navigation or engineering areas of any ship.
Another interesting consequence of vessel operations becoming more hi-tech could lie in the greater diversity of recruits. What if shipping companies started to want people with computer science degrees in their crews? Recruiting from pools of 'techie' students could open the industry up to workers with a wider range of backgrounds – perhaps even attracting more LGBT+ talent and a range of ethnicities not usually found in the maritime workforce of the UK or the Netherlands.
---
Tags