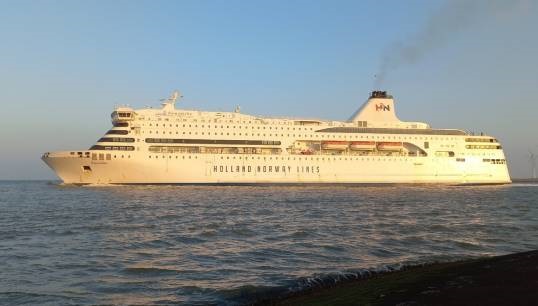 Nautilus stepped in to support members after Dutch ferry company Holland Norway Lines began to fail financially. Jelle de Boer reports
Holland Norway Lines (HNL) was a Dutch shipping company founded in 2021. The company operated a ferry service between Emden, Germany, and Kristiansand in Norway using the chartered cruise ferry MS Romantika (initially the ship departed from Eemshaven in Groningen).
Good pay and conditions
Nautilus International agreed a good collective bargaining agreement for members onboard Romantika working for management company Marin Crew BV. Nautilus's industrial organisers visited the ship and its crew regularly, and the already large number of members onboard continued to increase due to intensive recruitment.
Departure from Eemshaven and bankruptcy
HNL operated on the Groningen-Kristiansand route for a year, and this was initially a great success until problems in Eemshaven became more frequent. There was regularly no quay available for the MS Romantika, which meant that sailings had to be cancelled. As a result the company began sailing from Germany in the spring of 2023, initially from Cuxhaven and later to Emden.
However, the move did not work out for the company. HNL applied for a deferment of payment on 30 August 2023, indicating that it was headed for bankruptcy. The Romantika no longer sailed and on 4 September, HNL was declared bankrupt – meaning the unfortunate end of a company that began operating with great success in Eemshaven last year.
Consequences for crew
Seafarers onboard the Romantika were employed via various companies, including Marin Crew, Global Crewmanagement and Ocre. Those with Marin Crew have been relocated or found other work. Unfortunately, Global Crewmanagement also collapsed and was declared bankrupt after HNL's postponement of payment. Eligible employees at Global Crewmanagement could therefore submit a claim for payment due to the company's inability to pay to the UWV (the Employee Insurance Agency, a Dutch government body). Ocre has applied for and received collective dismissal on economic grounds for its employees who served on the Romantika.
Advocacy
From the moment we received the message about the payment deferral from HNL, Nautilus began to tell our members about what was going on. We kept them informed of developments and advised them about their options in both Dutch and English. That is why it is important to be a member of Nautilus International – so that we can promote your collective and individual interests, and assist you even when something in the maritime industry goes badly wrong.
---
Tags