Environment
Picking up for the marine environment – the latest on the #BinForGreenSeas clean-up project
28 January 2020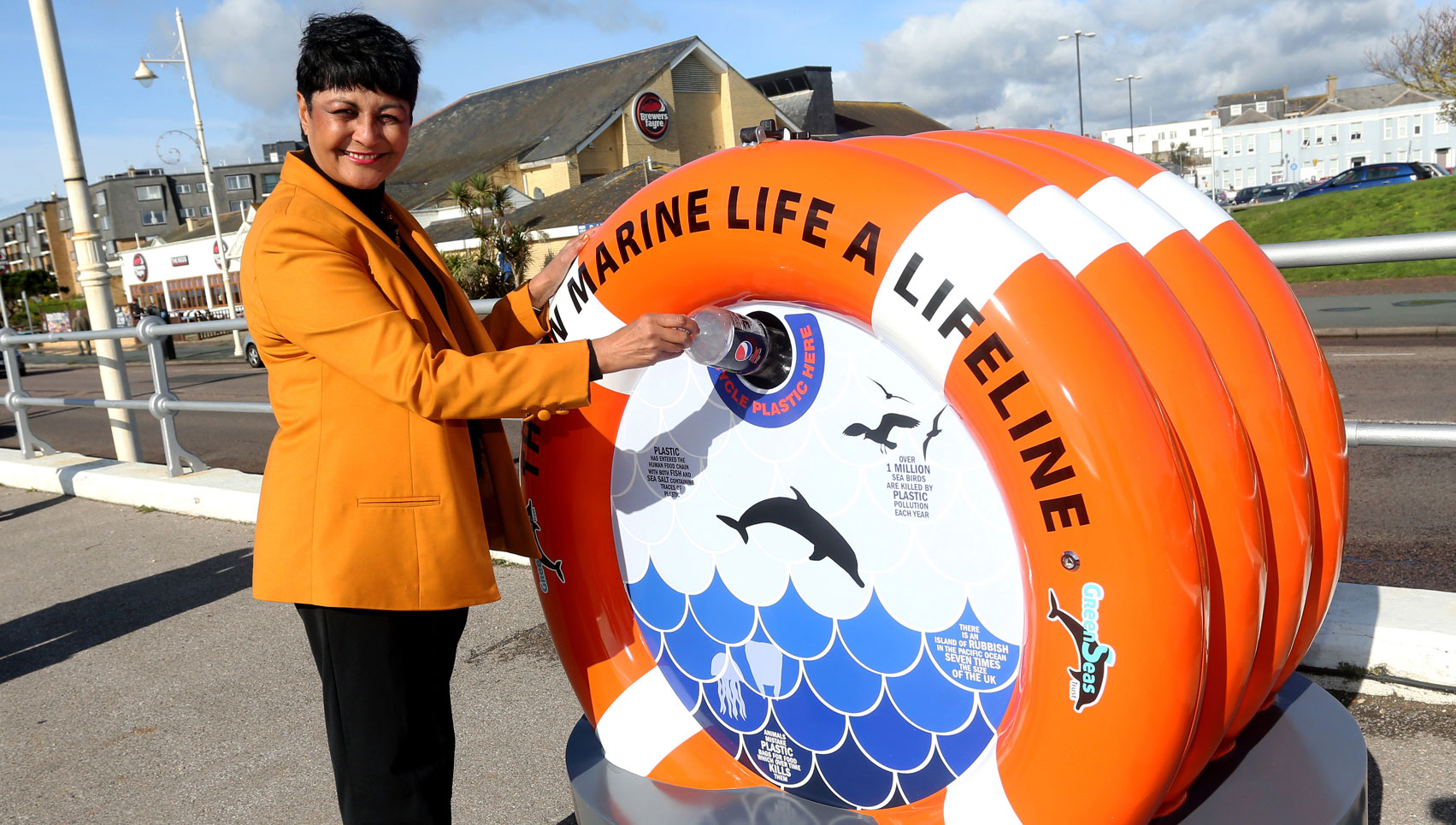 There rarely seems to be any positive news about the marine environment these days, but one clean-up project we have been following in the Telegraph is really gaining momentum. Fazilette Khan, the former seafarer behind the GreenSeas Trust, provides an upbeat update on the BinForGreenSeas
With 7.7 billion plastic water bottles used in the UK each year and 700,000 discarded as litter each day, the GreenSeas Trust's bold and unmissable bin with its emotive tagline 'Throw Marine Life a Lifeline' has been gaining traction in the UK with sponsors and seafront councils alike.
The charity has steadily gained new orders for its #BinForGreenSeas since our last Nautilus Telegraph report in July 2019. With 80% of marine litter originating from land and only 9% of plastic currently being recycled globally, this grassroots initiative has hit the right note with beachgoers and promenade walkers. The graphics and text on the 1.5 metre-high bin act as a 24/7 constant reminder to visitors of the terrible damage rubbish is doing to our oceans.
The fibreglass structure of each of these bins is made using 450 recycled PET bottles, so not only is BinForGreenSeas helping to change the mind-set of people and stop plastics getting into to the sea, but it is also diverting a whole lot of plastics from landfill.
The first BinForGreenSeas arrived on Blackpool Promenade in June 2019, and was followed by one in Bognor Regis. 'The BinForGreenSeas really is having an effect at a subconscious level,' said Daniel Cox, manager of waste services for Arun District Council. 'Unlike most of our recycling bins along the promenade that end up having all kinds of mixed wastes dumped into them, we found that, when emptied, the BinForGreenSeas only had plastic waste in it – and this is quite a significant improvement as the clean waste is easily recyclable. The promenade and beach around the BinForGreenSeas is much cleaner too. People are taking notice of it.'
The GreenSeas Trust is currently fulfilling an order for three more bins for Swale Council in Kent due to be launched at the end of January. The popular sites of Minster Beach, Leysdown Beach and Sheerness Beach will each have a BinForGreenSeas which seaside visitors won't be able to miss.
Although structurally the same, the graphics for these bins have changed slightly. We found scanning the QR was a bit fiddly, especially when the bin is sited on uneven surfaces, so the QR code has now been relocated to the main ring, which has meant some other subtle changes.
The QR code is linked to the GreenSeas website, where information to change habits on single-use plastics can be found. In addition, our blogs cover new trends and innovations that are developing around the world to help reduce our plastic footprint.
Since single-use plastic and cigarette butts made from cellulose acetate fibres (a plastic) are the biggest threats to oceans and marine life, the Trust has not ignored these. GreenSeas Trust recently partnered with the Institute of Engineering and Technology (IET) on its global engineering challenge, which tasked young engineers to develop a robot for clearing the beaches of the estimated 4.5 trillion cigarette butts thrown away each year from entering the sea. The IET innovations Award went to Team Baywatchers for their eye catching gadget 'KRABB-E'.
With another BinForGreenSeas destined for Wyre District Council soon, the charity seems unstoppable in its quest to halt the tide of marine plastics, but while UK coastal councils are very keen on the project and support it wholeheartedly, they are cash strapped, so we are actively seeking corporate sponsorship to match-fund our BinForGreenSeas.
if you or your company could sponsor a BinForGreenSeas, please contact the GreenSeas Trust directly at: Info@greenseas.org. For more information, see the website www.greenseas.org and follow @GreenseasOrg on Twitter.
---
Tags