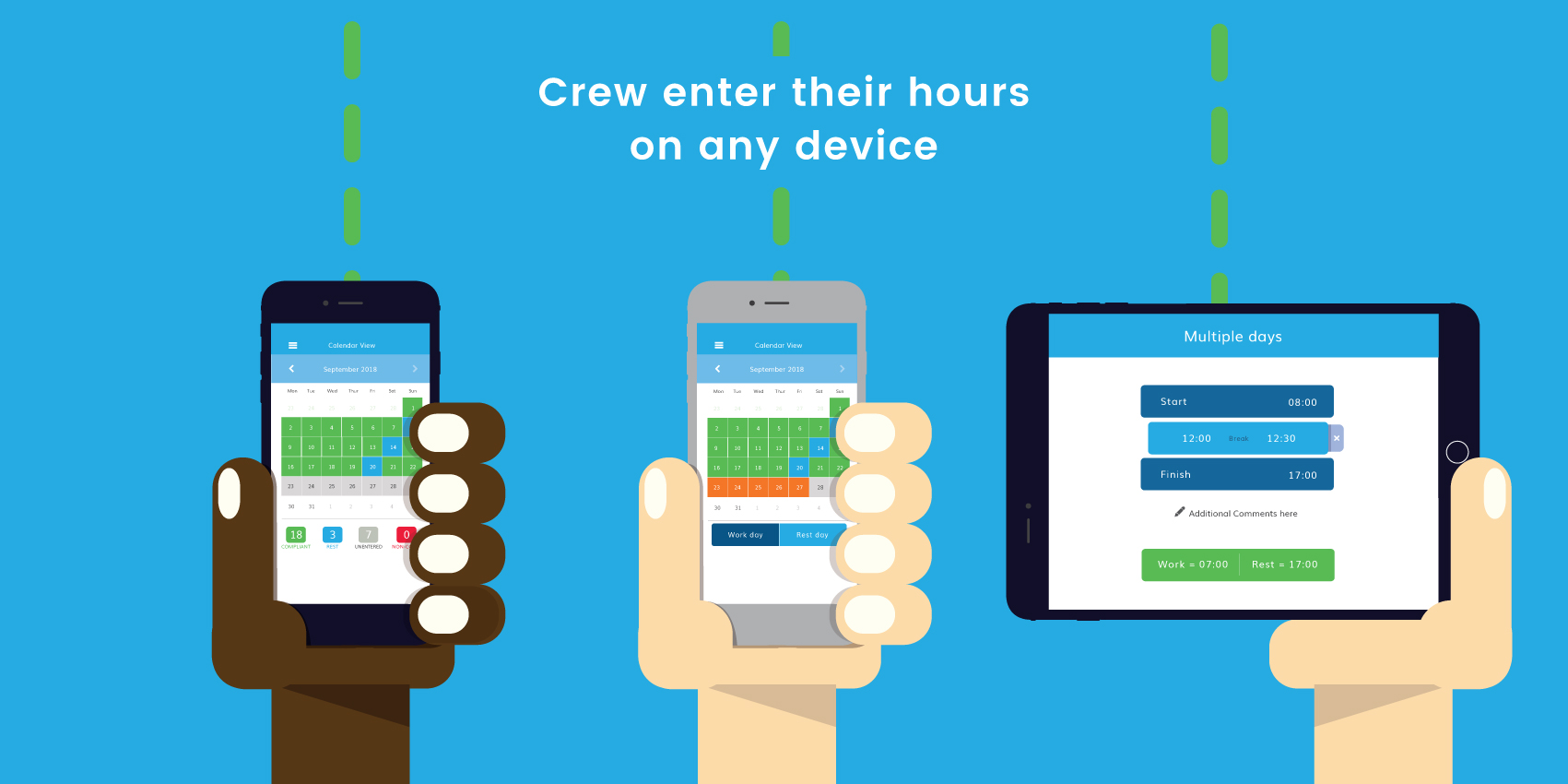 A former superyacht crew member has used his experience to help launch a new app to help seafarers keep track of their working hours. Steven Kennedy reports…
Shipping is a 24/7 industry. But that shouldn't mean 24/7 for its key staff.

Over the years Nautilus has campaigned against excessive working hours and has helped to raise awareness of the risks of long and irregular hours.

Accurate records are meant to provide a vital safeguard against fatigue and, in theory, keeping tabs on work and rest periods should be straightforward. However, in practice, records can get muddled or even falsified.

These issues have led to the development of a new app designed specifically for seafarers which allows them to accurately – and individually – keep records of their working hours. Now the developers are looking to make it the go-to resource for the industry.

'Accurately logging hours on a consistent basis is where the industry should be, and our app is helping vessels do this by giving users a more convenient way to log hours,' says Tim Fletcher, co-founder of the WorkRest app. 'The industry standard is to log hours on a printed spreadsheet, which is time-consuming and a real pain. It's also often very inaccurate. WorkRest is better because you can log hours via an app on a personal device in seconds.

'Crew are, on average, logging their hours every two to three days, which improves the accuracy of the records,' he adds. 'With WorkRest, you get real-time information on each crew member's recorded hours as and when they've logged them.'

Tim knows what he is talking about, having spent five years working in the superyacht industry with his business partner Stuart Willis – the company's chief happiness officer and chief marketing officer – and says it his experiences of the industry sparked the original idea.

'Having been a former crewmember, I was required to complete hours of rest logs each month,' he recalls. 'Logging my hours became an increasingly frustrating process when the only options available to me were a printed spreadsheet which I could fill in my individual hours of work or an antique software solution found on the bridge computer that made Windows 95 look modern.'

He had his 'eureka moment' when 'having sat in front of the computer, trying to remember my hours for the previous month' he saw colleagues in the crew mess on their smart phones. 'I thought how is there not an app to make this process so much easier?'

Tim insists that the app will help to ensure the records are as accurate as possible. 'Providing crew members with a digital means for logging hours actually makes the process far less likely to be tampered with,' he explains.
'Each crew member enters their hours on their own (password-protected) device via their personal WorkRest account. Once the hours have been recorded, only the crew member can amend them.
Obviously if those in charge explicitly tell the crew member to change their records to be compliant, there's unfortunately not much we can do about it,' he adds. 'What we're trying to do is make it as hard as possible for those that wish to fudge the records to do so. Co-founder of the WorkRest app, Tim Fletcher
Once a crew member has submitted their records, then the vessel's admin – including the captain and heads of departments can review and approve the entries. They cannot – as Tim is keen to point out – amend them. Only the crew members themselves have the permissions to amend their own entries.

Although the app originates from the superyacht industry, Tim says WorkRest is suitable for all sectors of shipping. 'Anyone that is required to keep a track of their work and rest hours will find WorkRest useful,' he points out. 'It continues to astound me when users contact us -- one in particular, a leader in the towage sector, and their current system in place is still carbon copies, and we are in 2018!'

There is a potential snag: and that's the money. WorkRest is a paid-for service and Tim and Stuart face a challenge to convince companies that it is worth investing in.

The price of the service for a company varies depending on how many active crew will be using it. For instance, a company with 25 active crew will pay €40 a month, whilst a company with 100 active crew would pay €115 a month.

So how will WorkRest avoid becoming another great idea that's cast aside for cost-saving purposes? 'We would love to offer WorkRest for free, but the truth is there are costs incurred in the service we offer, whether it be server costs, wages or development,' Tim points out.

'The app is completely free to download and we offer a no-obligation free month's trial to every vessel,' he adds. 'As an example; for a vessel with 15 crew, it will cost €2 per user per month. If seafarers would like to use the app for themselves, we offer a free tier for them to integrate it into their daily routine, the only restriction being they won't be able to export the time sheet at the end of the month.

'We're really lucky, however, to be working with some fantastic management companies that have rolled WorkRest out to their fleet and we plan to offer WorkRest to more over the coming months,' he says.

For more information visit Workrest.
---
Tags