Members at work
New MAIB chief inspector is a safe pair of hands for the shipping industry
14 January 2019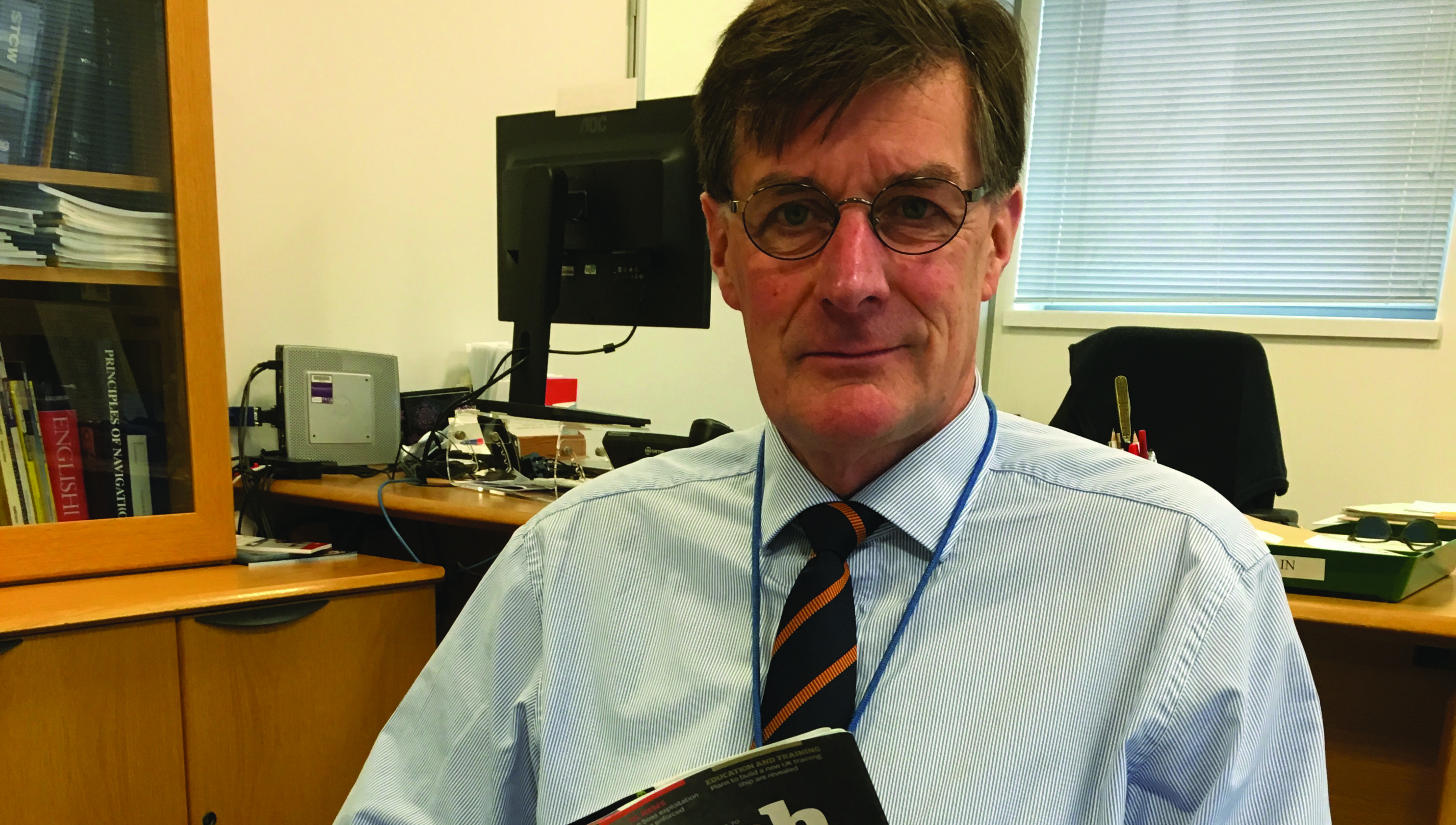 Tired of seeing the same accidents happen time and time again, the new head of the MAIB is on a mission to get the shipping industry to learn from its mistakes. ANDREW LININGTON met Andrew Moll in December to talk automation, aviation and international cooperation...
He's only a couple of months into his new role as chief inspector of the UK Marine Accident Investigation Branch, but Andrew Moll is very clear about his aims and objectives: 'The opportunity to make a difference and change things for the better was certainly a big factor in bringing me here,' he says.
Growing up near the Norfolk Broads waterways in eastern England, Mr Moll says he 'gravitated towards water' at an early age and decided to join the Royal Navy in 1978 'because the sea seemed like an exciting place, there was lots of travel and I never expected that anyone was going to shoot at me'.
He was wrong on the last count, however. In 1982 he was serving on HMS Coventry in the Falklands conflict when the destroyer sank after being bombed by Argentinian aircraft. 'I got some very particular and direct experience of abandoning ship, and what drove me through my naval career was the very strong desire for that never to happen again,' Mr Moll says. 'I wanted to be the best warfare officer there ever was.'
His 27-year RN career saw him rise to the rank of Captain and take command of three ships – including an Oman Navy fast patrol boat, where he witnessed the damaging impact on merchant vessels of the Iran-Iraq 'tanker war'. A short spell on secondment with what was then P&O Nedlloyd gave him further insight into the world of commercial shipping.
Mr Moll left the RN in 2005 after spotting an advertisement for the MAIB. 'My perception at the time was that the Navy was getting the smallest slice of the defence cake,' he recalls. 'When you work in the RN, you change jobs every couple of years and you are a bit nervous about moving to civvy street and doing the same thing for 20 years, but this appealed because of the variety and the opportunity to make a difference and do something useful.'
As a principal inspector with the MAIB, he headed up one of the investigative teams handling a wide range of cases. Two in particular stand out for him: the girting incident that led to the loss of the tug Flying Phantom on the Clyde in 2007 and the capsize of a Haitian sloop in the same year, in which as many as 70 people died. Both incidents reinforced his sense of the value of accident investigation in not only determining causes but also providing lessons that may prevent repeat incidents.
Appointed as head of the MAIB in October 2018, Mr Moll says he regards automation as one of the biggest challenges to safety. 'Some people may say we are on the way to autonomous vessels, but the reality now is that automation is substantially changing the role of the individual to one of monitoring rather than actively doing,' he points out. 'That can be quite demotivating, which in turn can lead to low levels of alertness, and it is a real challenge for the industry to find ways of giving seafarers proper, fulfilling jobs.'
He's very aware of the growing focus on the mental health of seafarers and says the MAIB is currently looking at a couple of cases in which watchkeepers' performance on the bridge was impaired by personal issues.
If automation ends up downgrading seafarers' jobs, that's demotivating and can lead to safety issues
'We do need to look at mental health from a safety perspective, and that is one of the reasons why we are appointing a human factors specialist in the new year who will give us better insight into things like the man-machine interface and the reasons why people do what they do,' he says.
E-navigation is also high on Mr Moll's agenda, and early in the new year the UK MAIB will be revealing the initial results of research undertaken with the Danish MAIB in response to some major ECDIS-related accidents.
'Most systems have some very good bells and whistles, but people often only use them to the extent that they think they need to,' he explains. 'Unless the machine says listen to me, you don't, and we need to be looking much closer at the use of alarms and the setting of limits.'
Fishing vessel safety remains stubbornly at the forefront too – with the UK industry being around 10 times more dangerous to work in than the riskiest shore-based industry. 'Seeing the same accidents and safety issues time and time again can be demotivating for inspectors, but I am determined that we will make a difference,' Mr Moll promises. 'We have had some success, and I think the UK implementation of ILO Convention 188 will have an impact.'
He's disappointed, however, by the evidence of continued commercial pressures in merchant shipping. 'In aviation, safety drives the bottom line, while in the marine industry the bottom line can drive how much safety you can afford,' he notes.
Mr Moll says he is looking at ways to get greater synergies and efficiencies with his counterparts in aviation and rail accident investigation – and especially to ensure there is the capacity in place to deal with a major transport incident involving multiple casualties or multiple locations.
At the same time, the MAIB is reviewing the rules and protocols governing its relationship with other investigative authorities, such as the Maritime & Coastguard Agency and the police. 'I don't think there is anything wrong, and there is a good understanding of the way we protect our witness interviews, but we want to be sure the barriers are effective and efficient,' Mr Moll explains.
He is conscious of differing cultural attitudes towards safety around the world but wants to drive forward efforts to get greater consistency in global shipping accident investigation. 'We are fortunate in that we are appropriately resourced for our task,' he adds. 'Of course, I could do with more money and more people, but there are many flag states where they don't have independent accident investigation and get surveyors off-tasks or use outside contractors, and we are trying to use our influence at the IMO and through the international and European accident investigators' forums to make a difference.'
Expect to see and hear a lot of Andrew Moll in the months ahead. 'As much as I can, I want to get out there and talk to people,' he says. 'The personal touch makes a big difference.'
Image: Andrew Moll, the recently-appointed head of the UK Marine Accident Investigation Branch (MAIB).
---
Tags