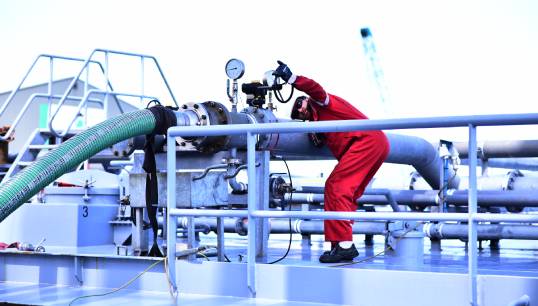 The International Maritime Organization's second symposium on low and zero carbon fuels was titled: 'Ensuring a just and inclusive transition towards low-carbon shipping'. Despite a general lack of focus on front-line workers, there were still some highlights for seafarers. Rob Coston reports
Nautilus International has long been pressing for a 'just transition' to new low- and zero-carbon propulsion technologies, so it was good to see that the International Maritime Organization (IMO) had decided to focus on the topic for its second symposium on low and zero carbon fuels.
From the Union's perspective, a just transition to greener shipping is one that sees employers and governments investing in the skills and safety of the workers who will operate the new technologies. However, there are other viewpoints in which the term means – for example – that state financial support should be given to employers required by new laws to install greener technology.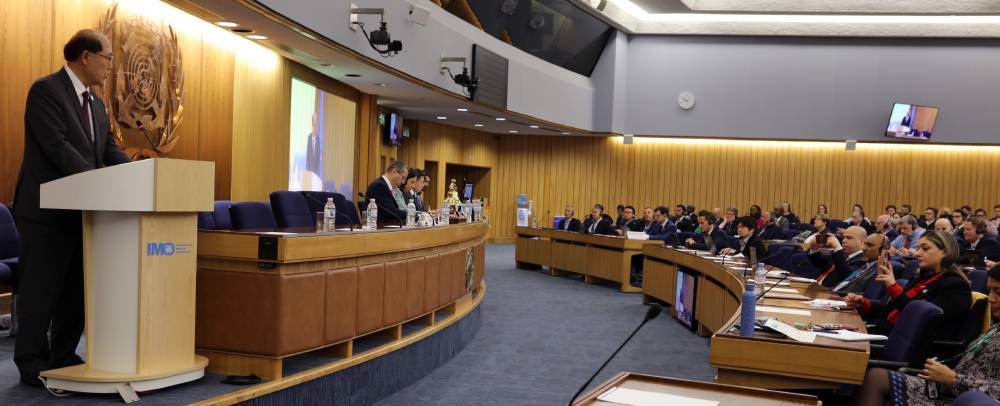 IMO secretary general Kitack Lim opened the 21 October symposium in London by stating that 'decarbonizing international shipping is a priority issue for IMO and we are all committed to act together in achieving the highest possible ambition.'
As the head of a United Nations body – indeed, one that has been accused of dragging its feet on the issue of decarbonisation – it is perhaps no surprise that much of Mr Lim's opening speech focused on the need for collaboration to solve climate problems. He further highlighted that the transition contains opportunities for developing nations, as well as costs. Seafarers did not feature especially highly in these opening comments, but the secretary general did acknowledge that 'as well as new technology and new fuels, we should not forget we will need new training for the maritime workforce.'
The IMO will 'promote a just and equitable transition with no-one left behind,' he said.
Seafarers absent?
Unfortunately, much of the day-long event focused not on seafarers and frontline workers but on other topics – with around 20 speakers largely choosing to focus on the business case for decarbonisation, the different fuel options available to shipping companies and, more frequently, the opportunities for developing countries to benefit from the transition.
This aspect was covered expertly by panellist Christiaan De Beukelaer, senior lecturer culture and climate at University of Melbourne & Durham University.
'The current energy transition we face could be and should be an opportunity to improve lives around the world,' he said, which would require the process to be 'environmentally effective, procedurally fair, genuinely just and equitable'.
The transition could either widen, maintain or – preferably – reduce global disparities and inequalities, he pointed out.
'In practice we need to ensure worker safety/social justice, technological inclusiveness and global equitability. These elements, along with the practical side of transitioning to green technology, are mutually reinforcing.'
We can build a ship in less than three years but it takes 12 to 14 years to go from cadet to master Gerardo Borromeo, Philippines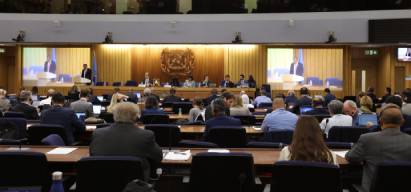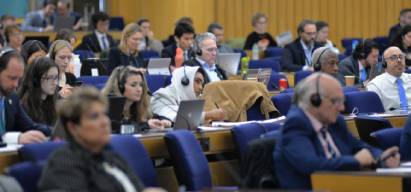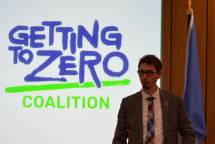 No more excuses
Whenever the subject of investment in green maritime technology arises, shipowners come up with reasons why they shouldn't have to do it, and the IMO seminar was no exception – writes Sarah Robinson.
A small cut in their profits would risk the viability of multinational shipping corporations, we hear. Another line is that shipowners shouldn't have to do much because other industries aren't doing much either, or because investment in these other industries would make a bigger difference to the environment than if the money were spent in shipping.
However, the dangers now posed by the climate crisis mean that, both legally and ethically, inaction is no longer an option.
A new study from the European clean transport campaign group Transport & Environment should therefore provide welcome reading for shipowners, as it indicates that the costs of change could be much less than many fear.
The study takes a real-world example of a named large container ship travelling between China and Belgium and looks at how much the unit cost of carrying common goods would increase if the shipowner changed to cleaner fuels.
The fuels analysed start with the ones that would be easiest and cheapest for a switch away from diesel, including 'full fossil' liquefied natural gas (LNG) and biodiesel blend.
Then there are the more sustainable biofuels and the likes of 'e-LNG', which has a lower overall greenhouse gas tally than full fossil LNG because the liquefaction process is carried out using electricity from renewables like wind or solar power.
Finally, the study looks at what the extra costs would be if the ship ran on 'green hydrogen' – the gold standard with virtually no greenhouse emissions from the ship or in production, because the fuel is created using electricity from renewables.
Careful consideration was given to a range of factors when the analysts made their calculations, and for detailed information about the methodology, Telegraph readers are encouraged to download the study for themselves.
Taking averages of the increased costs that would be incurred by changing to the various alternative fuels, the study's headline finding is this: 'Ambitious EU green shipping measures would add just cents to most consumer goods.' The cents in question are Euro cents, and the examples of additional costs for three different products are as follows:
| | | |
| --- | --- | --- |
| Pair of shoes +€0.008 | TV +€0.10 | Fridge +€0.81 |
Even changing to green hydrogen would incur only the following additional costs per item, the study says:
| | | |
| --- | --- | --- |
| Pair of shoes +€0.08 | TV +€1.00 | Fridge +€8.00 |
These seem like increases that consumers would be willing to bear in the retail price of the goods, says the study, but they don't need to. 'Given the highest historical earnings of the container carriers, it can be assumed that part of these costs, even if insignificant, can be assumed by the shipping operators,' concludes the report.
Image: IMO
Download the full Transport & Environment study report: 'The small price to pay to clean up shipping'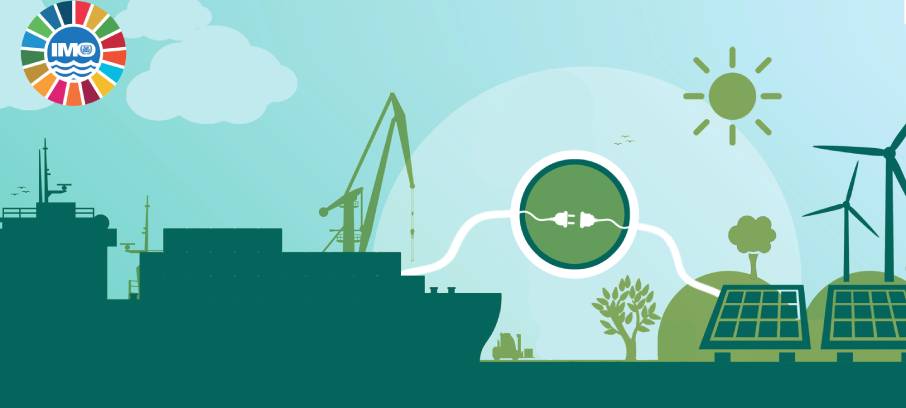 Nautilus's Just Transition campaign
After many years of pressing in various ways for a just transition to greener shipping, Nautilus is now launching a major campaign on the subject. This was originally planned for launch earlier in 2022, but was postponed due to the P&O Ferries crisis.
Under the Just Transition campaign, the Union will intensify its lobbying policymakers and shipping companies, insisting they acknowledge that seafarers will be impacted by the shift to green fuels and greater automation. The Union believes that cadets will need to receive proper instruction on new technologies; that the current generations of seafarers will need to be appropriately retrained, which should be funded by companies, not out of their own pockets; and that when new technologies are introduced they should not make an already risky job even more dangerous.
Unions highlight maritime workers
It was largely left up to one speaker and two audience participants to highlight the needs of maritime professionals.
Speaking from the audience, Jeremy Anderson, sustainable transport lead at the International Transport Workers' Federation (ITF), asked Mr De Beukelaer how we can ensure seafarers and other maritime workers can be better represented in the transition process.
'It is vitally important when we talk about just transition that we follow the Paris Agreement and ILO literature, which says there is a need to consider workers and ensure representation for them,' Mr Anderson said.
'Decarbonisation is a major priority for the ITF. Our members know it won't work without their input.'
Mr Anderson took the opportunity to remind the delegates – who had spent much of the day discussing alternative fuels – that changes have life-changing implications for seafarers, stressing that the use of ammonia, for example, raises major safety concerns that must be addressed.
'It's very clear the industry is facing a major labour shortage. In terms of decarbonisation this is coming at the worst time,' he added. 'We need expertise. It's very important that we bring in a new generation of young seafarers, including women, and we need high quality training.'
Mr de Beukelaar responded: 'I think [the voice of seafarers] is something that is very absent and I think that's a real pity. It is a fact that many people here in the room are former seafarers who have a thorough understanding of what it is like to work at sea. Recognising that experience is one thing, but recognising the voices of those who will have to train to deal with new fuels and a new work environment is vital, as they have to take the new risks.'
Another audience participant, Nautilus International's communications and campaigns organiser Robert Murtagh, reminded the panel that green technology is no longer something distant, and that current seafarers must be considered.
'When we talk about the people and skills element to the just transition, we often talk about "the future" and how the seafarers of the future must acquire the necessary skills,' he said. 'But how do we ensure the seafarers of today have access to upskilling so we don't see an exodus of skilled maritime professionals form the industry because they can't acquire proper training?'
Appeal from crewing hub
One speaker in particular was passionate about the needs of seafarers – and the dependence of the entire transition project on the skill and determination of maritime professionals. Perhaps unsurprisingly, this was Gerardo Borromeo, a representative of the Philippines on the global maritime industry's Just Transition Task Force, formed at COP 26.
He emphasised the need for 'human sustainability for the maritime industry', which requires making seafaring an attractive industry as well as investing in education. The latter is currently being hamstrung, however, by continuing lack of clarity on areas such as which fuels will be used, and what financing will be available for reskilling and upskilling.
'The decarbonisation and digitalisation transition is not solely dependent on the future of ships; it will depend on the maritime professional we develop,' he said. 'We can build a ship in less than three years but it takes 12 to 14 years to go from cadet to master.'
---
Tags