Members at work
Helen Coultas discusses the importance of breaking the stigma around mental illness at sea
18 March 2021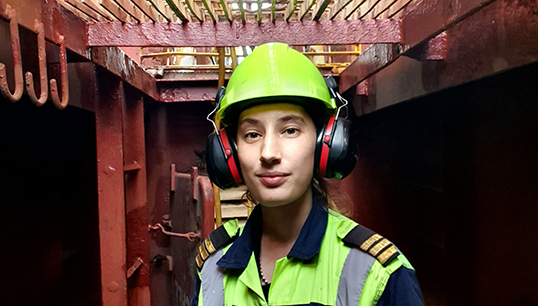 Helen Coultas is a chief mate at Maersk, working on container ships. She has been a Nautilus member since starting her cadetship in 2010, and in January 2021 attended the Union's Professional & Technical Forum for the first time
What originally attracted you to a career in maritime?
I wasn't sure what I wanted to do after sixth form. I was worried about attending uni because of the student debt, but I knew I wanted to do something to do with the ocean. I went to an open day at Bangor University and I saw the special research vessel that they had there and realised I was more interested in working on it than being a researcher.
In 2008 I watched By Any Means with Charley Boorman, and in part of it he travels via container ship from Dubai to Mumbai. I asked my mum if women could work on container ships and together, we started researching from there. My parents were really encouraging but my school careers guidance person wasn't really! I'm lucky I ignored their advice, to be honest.
Do you have any personal or family connections to the sea or inland waterways?
Not at all. My parents both worked for the Coal Board and are geologists.
What did you do before joining the maritime sector?
I applied to be a cadet at the end of sixth form when I was 17. Before that I had my GCSEs and A levels. I wasn't really particularly sure what I wanted to do so I just chose the subjects that interested me the most, Physics, Geography and English Literature. The only other job I had before working at sea was as a kitchen porter. I quite like that environment as in a way it's similar to working at sea as part of a team.
What does your current job involve?
As chief mate I'm responsible for planning the cargo loading and maintaining vessel stability. I manage and work together with the deck crew to maintain the vessel and safety equipment and supervise the junior officers in their duties with regards to life saving and fire fighting equipment maintenance. I also keep watches on the 4-to-8.
My favourite aspect of my job is the cargo planning and the deck maintenance. I enjoy problem solving and I love seeing when I have made a positive impact to the vessel. It is also really rewarding to be part of a team getting stuff done on deck, I especially like working together with the deck crew on big or unusual tasks. I'm always learning new things and testing my skills and abilities.
Tell us some of your career highlights so far – and career challenges
During my cadetship I sailed with some really great people who have become my role models. It was at that time that I decided I wanted to be chief mate more than anything. In 2018 my dream came true and I've finally become chief mate.
One of my early career highlights was being able to come back as a third officer to the first ship I sailed on as a cadet. It was a wonderful and interesting voyage on a ship that I cared for very much. One of the challenges I experienced was going to dry dock; it was my first time in my career and also, I was chief mate. I learned a lot of valuable skills and gained a lot of knowledge. It was really great to see people come together and support me to get the tasks finished in the short timeframe and challenging circumstances.
Who has helped you the most in your career?
I consciously try to get the best advice and guidance out of all the people I work with so I can't say that it's down to just one person. But I have had a few very good captains, chief engineers, chief mates and second mates who have guided me and coached me and helped lift my confidence when it was down. But most of all, the crew members, Abs and Os, have really taught me a lot and I'm so grateful for their knowledge and support. Low confidence is something I always struggled with and it is wonderful that there are people who recognise my worth and worthiness in my rank, even when I don't feel that way. I always remember the people who support me and uplift me and help me learn from my mistakes.
What is the one change that would make the biggest positive difference to your job as a maritime professional?
I would like it if ratings were paid more; salaries have dropped as contract lengths have increased and it is very demotivating for people. I would also like a greater focus on supporting mental health at sea, in the form of perhaps additional training included in basic first aid so that people can recognise common signs of mental illness and give basic support until the person can receive more substantial treatment. And in general, less stigma around talking about mental illness at sea and about things such as PTSD from incidents at sea, especially in light of the stress and trauma caused by being trapped at sea during the coronavirus pandemic.
What are your plans for the future? Would you like to take a job ashore one day?
At the moment I am happy in my role as chief officer. I'm not sure yet if I want to be a captain. I will probably have to work ashore at some point in the future due to family reasons. If I were to take a job ashore, I would probably like to work for the NHS in some capacity. It sounds unusual maybe, but one of the best aspects of being at sea is tackling problems as a team and I think I could bring that skill to other professions quite effectively.
What made you join Nautilus, and how is the Union important to you?
I mainly joined so that, should anything happen to me at sea, my family would have some support in any ensuing legal issues or investigations. I haven't really been involved in Union matters much until recently, but since since attending the January 2021 online Professional & Technical Forum and hearing the input of other seafarers from all parts of the industry, it makes me feel less isolated and realise that there are people interested in solving the same issues as I am.
What do you like doing in your free time?
I like playing guitar and painting. I have been painting a mural in one of the bedrooms of my house. At sea I like to read or listen to audio books and write short stories. Occasionally I write poems to send home to my friends and family although I'm not sure how good they are!
What is your favourite place you have visited during your career?
New Zealand, particularly Port Chalmers and Nelson. The weather is wonderful and the air smells so good. I also love St Petersburg. It is the most beautiful city I've been to.
What is your favourite holiday destination?
I don't really have a favourite destination, but I love to be home in the summer and autumn so that I can have BBQs with friends and family and also celebrate Halloween. Halloween is my favourite time of year; I don't mind being away for Christmas or my birthday but I hate missing out on Halloween.
What is your favourite film?
It's probably a tie between Lord of the Rings, Little Shop of Horrors and Mean Girls. LOTR is very comforting to watch, especially at sea. Little Shop of Horrors and Mean Girls just really lift my spirits, which again is another good thing to have at sea.
What are you watching on TV right now?
The Simpsons – it's just the greatest TV show of all time (from series 1 to series 10, the ones after that don't count!)
What are you reading right now?
I'm reading Skag Boys by Irvine Welsh. I'm a big Irvine Welsh fan. I just like the chaotic energy of his books. A lot of them get very dark but it's fun to be unsettled every now and again.
What's your favourite podcast / app / website?
It's not very exciting, but WhatsApp has really changed my experience of being at sea for the better. I can keep in contact with my family and friends really easily, send photos and not feel so distant from them when I'm away.
Tell us one thing that people may not know about you
I may have a chief mate's licence but I still don't have a driver's licence!
---
Tags