Careers
Harbour master careers flagged in UK church warden's fundraising sailing odyssey
18 October 2021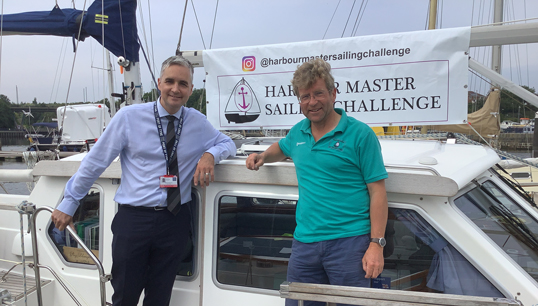 Harbour masters around the UK are being interviewed on their career experiences by Dorset churchwarden and leisure sailor Mark Ashley-Miller. He is nearly halfway along a five-year sailing challenge – fundraising for The Seafarers' Charity. He says many harbour masters merit 'huge recognition' for ensuring their harbour is the centre of a thriving community. Deborah McPherson interviews him as he approached London in his fin-keeled Nauticat Good Dog
Since starting off in Dartmouth in March 2019, Mark Ashley-Miller has now physically visited 210 UK harbours, 50 of them on foot, 160 by sail, in his fundraising efforts for The Seafarers' Charity, which he is supporting particularly for its services in maritime mental health.
The intrepid leisure sailor has been attempting to visit every harbour with a harbour master, and on arrival, records the visit and posts interviews on Instagram which he plans to use to turn into a book. So far, he has met 175 harbour masters.
In 2019 he reached Oban, having met 78 harbour masters along the way. In 2020 he sailed over the top of Scotland, visiting all the outer Isles, reaching Lossiemouth on the East coast, having met another 32 harbour masters. 2021 has seen him sailing down the east coast to London – interviewing another 75 harbour masters along the way.
In agreement with the charity, 10% of what Mark raises is being donated to St Martin's Church, Lillington, Sherborne, Dorset – where he is a churchwarden – in return for being released from his warden duties during his trip.
As well as supporting The Seafarers' Charity, he is sailing in proud memory of his father Peter, who was a Lieutenant Commander in the Royal Navy and served in the Arctic convoys. Mark has no experience of the Merchant Navy or Royal Navy, but it was his father who taught him to sail, and who introduced him to a predecessor organisation of the Charity (the King George's Fund for Sailors). Its work in supporting men's mental health is a topic he admits is near to him, having suffered from depression himself.
Sailing a fin-keeled boat has meant access to some harbours has been a bit difficult where they are either too shallow for his Nauticat 331 to get into, or not really designed for yachts such as in Faslane and Felixstowe.
'When it has been bad weather I have berthed up and got out my bicycle to hunt down neighbouring harbour masters. Pre-pandemic it was actually very easy to hitchhike when dressed in sailing clothes.'
Of the 175 harbour masters Mark has now met, he says '99% have been extremely welcoming and very interested in my challenge. I have had harbour masters come out in their boats to meet me on sandbars; invitations to interview them at sea on their fishing boats, and many have visited me on board my boat Good Dog.'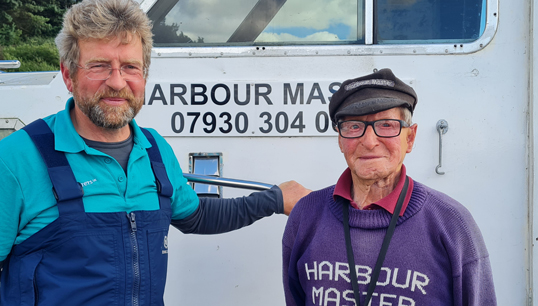 The smaller harbours tend to have working fishermen or volunteer harbour masters whereas the very large ports have office-based harbour masters, he says.
Of all his interviews, one key insight into the harbour master career stands out – the need to be available to the community around the clock.
'A harbour master has to enjoy being the "go-to" person and that means 24/7, 365 days of the year. Whether a submarine has run aground, or a boat owner needs to borrow a hosepipe; it is the harbour master who gets the call. I liken them to farmers. In the same way a farmer looks after land, all harbour masters look after water, and when the weather is bad, a small fishing harbour is equally as dangerous as a busy container port. On the whole they enjoy their job enormously and have often been in post a long time, father following son. At Fisherrow the harbourmaster has been in post for 44 years!'
Mark says the list of the most interesting things he has learnt about harbour masters is too long to recall. But high among them is the pleasure he has found in learning so much maritime history and finding out about the fishing industry. His trip has also given him insights into global warming and how it has affected sea levels in harbours and even the wind direction, and it has taught him how the renewables industry has re-vitalised so many east coast ports.
'I have also learnt just how few British people work on our merchant fleets. I have learnt about drugs and the deprivation in many ports especially in Scotland. But I have also learnt how proud many harbour masters are of their harbours and how they quite rightly see their harbour as the centre of a thriving community. Many deserve huge recognition.'
Press Mark on his most memorable harbour visits, and he will say: 'About 210. I often get asked where my favourite harbour is. Every single one has been different, and I have enjoyed visiting them all.' Some stand out memories, however, include the harbour master of a 'very tough fishing harbour texting me ahead of my visit and saying I would be his guest; another welcoming me with a bottle of malt whisky; another letting me berth next to a giant anchor layer; and yet another filling my tanks with diesel for free.'
Fortunately, Mark has so far experienced very few dangerous moments, but prefers, in any case, to describe 'many exhilarating moments', such as letting his boat dry out on a harbour wall for the first time in Newquay and finding it 'tilted forward at quite an angle'; or the time he 'travelled sideways under the Severn Bridges at 13 knots'. Other memorable moments include 'racing the Swellies' on the Menai Straight; departing Liverpool docks in the night with large ships fore and aft; hitting thick fog in northwest Scotland; rounding Rattray head wind over tide; and racing up the Humber on the ebb to get into Goole lock before the gates closed.
The only time he needed assistance was when his Genoa furling line broke as he crossed the Dorus Mor tidal race near Jura. 'With just two of us on board and 26sq m of sail flogging to death in a Force 7 I decided it was too dangerous to take down the sail myself and gladly accepted help from the famous Orange boat from Oban - we are forever grateful for the amazing work the RNLI do.'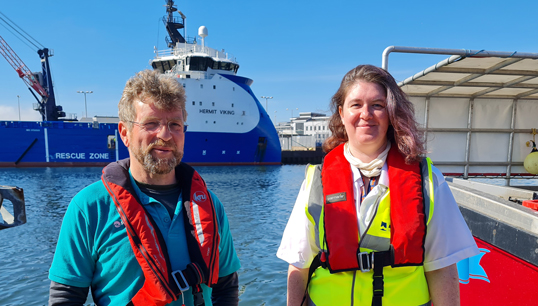 Five years seem like a long odyssey, but Mark found his original two year estimate was over-optimistic. He also only sails from Easter to October each year. His wife, family and lots of friends have joined him on the passages – and he has had a total of 45 different crew so far.
In the process of doing the challenge Mark has also provided a key catalogue of harbour masters for the UK, as surprisingly there is no central list. 'It has taken me a long time to find out how many harbour masters there are in UK and Ireland – I have now met 175 out of an estimated 300, so a couple more summers should crack it. At the beginning of Covid-19 I was approached by the Cabinet Office via Compass Publishing for my full list of harbour masters, which I was happy to supply.'
After such a trip, and so many stories to tell, a book is naturally on the horizon. Mark is currently in discussion with various publishers, but a good place to see his interviews is on Instagram @harbourmastersailingchallenge.
Mark is happy for anyone to come and sail with him on his journey for no cost (apart from a donation to The Seafarers' Charity) and can be contact via email markashleymiller@gmail.com.
---
Tags