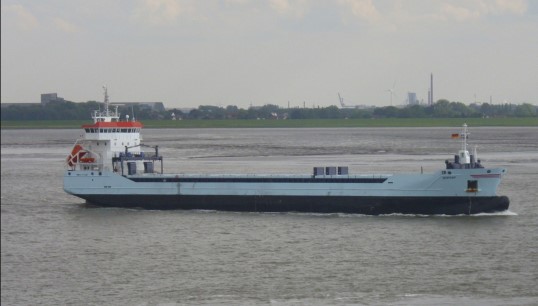 An accident which left a canal helmsman with terrible injuries has shed light on shocking safety deficiencies around handholds for pilot boarding. Andrew Linington reports
German authorities are demanding a far-reaching overhaul of the rules governing the safety of marine pilots when boarding ships following a report that revealed 'astonishing' shortcomings in their application and enforcement.
The call follows an investigation of an accident in which a Kiel canal helmsman suffered 'life-threatening' injuries when he fell almost 4m onto the deck of a pilot boat after failing to find a handhold while boarding the Dutch-flagged general cargoship Marfaam in January 2019.
A report from the German maritime accident investigation bureau, BSU, points to widespread lack of implementation and enforcement of the SOLAS Convention rules for safe pilot boarding arrangements – including standards for adequate handholds – and highlights feedback from European pilots suggesting that almost 16% of embarkation points fail to meet international standards.
The report recommends a concentrated port state control inspection to target pilot transfer arrangements and it urges flag states, port states and classification societies to carry out spot checks for deficiencies in pilot embarkation points.
BSU investigators discovered that there had been two similar incidents in which pilots slipped and nearly fell after they had been unable to find handholds while attempting to board the 5,422gt Marfaam.
The BSU found that the ship lacked proper handholds at the pilot embarkation gate. Handrails which continued down to the deck level by the gateway had a diameter of 60cm, making them difficult to grasp, and the gate could not be fully opened because a hatch coaming was in the way.
The report points out that current International Maritime Organization recommendations on 'adequate' handholds – adopted in November 2011 – do not specify their material, strength or maximum diameter and that when Marfaam's keel was laid in 2008 there were no mandatory specifications for the design of handholds.
'The results of this investigation should be used as an opportunity to limit the existing margin of discretion about the circumference of handholds and set a maximum permissible value,' it adds.
Extremely vague standards
The arrangements onboard Marfaarm had been approved by Lloyd's Register, acting on behalf of the Dutch flag state. BSU said its investigation had shown that the 'extremely vague' SOLAS standards for access to the deck are widely interpreted by eight leading class societies, which are 'indiscriminate' in their use of the terms handrails, handhold stanchions and handholds.
It points out that 'personnel transfers from one ship to another are complex manoeuvres that involve many high risks for the people crossing' and it warns that some of the guidance given to seafarers on pilot boarding arrangements is erroneous and confuses handhold stanchions – which can only be grasped at deck level – with adequate handholds.
BSU said it was 'astonishing' that the defective arrangements onboard Marfaam had not been reported by pilots despite the 'unrelenting' campaigns on boarding safety and suggests the absence of a culture of reporting dangerous embarkation points could be the consequence of pilots seeing them as 'part of everyday life'
Detailed requirements for the ergonomics and structural strength of handholds have been laid down at European level for railway staff and these could be used to improve the standards for shipping, BSU said.
Noting that insufficient lighting of the embarkation area was a factor in the Marfaam accident, it says handholds should be coated in a bright colour.
BSU said it was 'astonishing' that the defective arrangements onboard Marfaam had not been reported by pilots despite the 'unrelenting' campaigns on boarding safety and suggests the absence of a culture of reporting dangerous embarkation points could be the consequence of pilots seeing them as 'part of everyday life'. It recommends 'a user-friendly application' to simplify the process of notifying authorities about problems, along the lines of the 'exemplary' formats developed by the UK Marine Pilots' Association and the Australian Maritime Safety Authority.
The report notes that Marfaam's 'extremely cooperative' owner, Boomsma Shipping, installed handholds on the ship after the accident and another company operating six sisterships also agreed to make similar improvements. However, it warns that evidence gathered during the investigation 'shows that many other ships have similar embarkation points that do not have adequate handholds and that many other shortcomings also exist in the area of pilot transfer arrangements and pilot transfers'.
The boarding of the canal helmsman and pilot on Marfaam was not being supervised by an officer, and the report notes that this may often occur as a result of 'tightly calculated' crew complements and the need to comply with work and rest hour requirements.
The BSU said evidence from this and other pilot boarding accidents suggests that it is not strictly necessary for an officer to be present and it argues that the rules could be relaxed to give masters the right to allow pilot transfers to take place without an officer, providing that the relevant deck crew are properly qualified and have adequate English language skills.
SOLAS review
Calling for Germany to seek a review of the SOLAS rules, the BSU said this should improve the standards for handholds, ensuring that they are coated in a bright colour, that embarkation gateways can be fully opened and locked in place, and that supervising crew members should be secured against falling from a height so that they can safely intervene if necessary.
BSU recommends improved legal guidance for pilots on their rights to refuse to board a ship if they consider there are severe deficiencies in the embarkation point. 'Hazardous situations must be identified, communicated immediately and eliminated,' it stated.
'It is the user of a pilot embarkation point in particular who will be best placed to identify a safety risk and [these] must be reported to the competent port state control authority as soon as possible so that – in the best case – they can be eliminated without undue delay.'
The BSU also calls for a risk analysis review of one-person operation of pilot vessels, noting that the presence of someone else in this and other accidents had helped to provide support and mitigate the most severe consequences. 'It should always be possible to ensure that person-overboard manoeuvres and first aid measures can be carried out immediately,' the report stresses.
In the longer-term, the BSU suggests a wider review of pilot boarding safety is required and technical developments for transferring personnel in the offshore wind energy sector – such as fixed ladders and systems to compensate for heave and pitch motions – should be looked at more closely for merchant shipping.
---
Tags