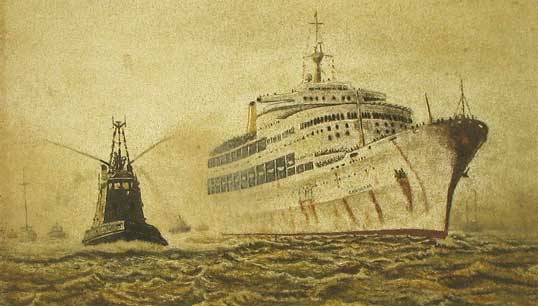 June 2022 saw the 40th anniversary of the end of the Falklands War between the UK and Argentina. The Royal British Legion organised a Falklands 40 event in June at the National Memorial Arboretum, where Nautilus member Martin Reed was chosen to speak on behalf of Merchant Navy veterans. Here is an edited version of his speech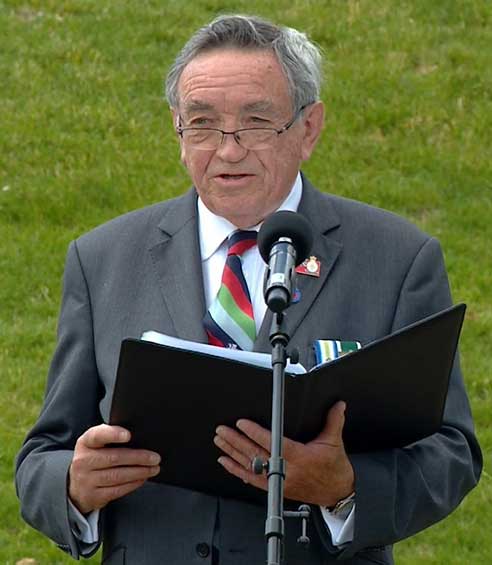 In 1982 I was chief officer of the good ship Canberra, flagship of the P&O. Homeward bound from a four-month world voyage, we were suddenly told to 'prepare for a change of plan', followed by the signal stating firstly that we had been requisitioned by the government and that the ship was to be staffed by volunteers; we all volunteered to stay.
Three days later we had an emotional send-off from Southampton with two flight decks, equipped to re-fuel at sea, with our 400 volunteer Merchant Navy crew, plus 75 Royal Navy and 2,000 military personnel.
Our new passengers needed to keep fit, and having told them that four times around our promenade deck was a mile, they proceeded to run 4,000 man miles per day in everything from gym kit to full battle order.
Whilst loitering off Ascension Island we heard of the sinking of the Belgrano, and not only did we realise that this was now a shooting war, but that fellow seafarers were dying in the wastes of the Southern Ocean.
On 21 May we found ourselves in San Carlos Water with the floating reserve of 42 commando onboard. Not only were we in that hostile environment, but we believe that we were the first ship in the anchorage to open fire on the airborne enemy, a first for a passenger liner.
There are many stories to be told about the ship and our war, but I would just like to say how very proud I am of the men and women of the entire ship's company, and the way they tackled any job thrown at them, from re-fuelling at sea, looking after the troops, caring for our 172 wounded hospital patients, both British and Argentine, through to getting 4,144 prisoners of war back to Argentina, and eventually bringing so many of our boys back home.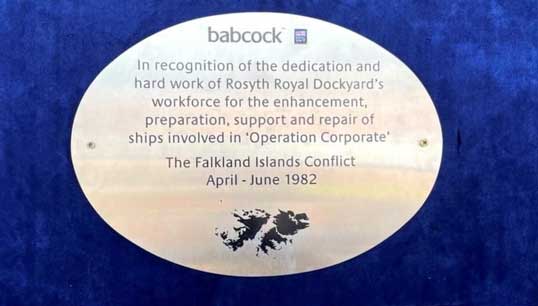 MN Falklands memories recorded for posterity
Three Falklands 40th anniversary memorial initiatives previously featured in the Nautilus Telegraph have come to fruition – with excellent results.
In the January/February Telegraph, researcher Graham Hockley appealed for Merchant Navy Falklands veterans to share their memories of the conflict in a video archive project run by the Legasee charity.
Reporting back to the Telegraph in June, Mr Hockley said: 'Nautilus's help has been very significant amongst the over 40 responses. Legasee has been delighted with the quality of the interviews and the breadth of experiences revealed – from watching Argentine aircraft fly into attack to the complexities of offloading 3,000 troops or acting as a stretcher bearer for the wounded as they were brought into the ss Uganda. If anyone would like to view the interviews, please go to www.legasee.org.uk/project-falklands.'
Following a similar appeal by Andy Cockeram of the British Modern Military History Society, numerous Nautilus members also came forward for a Falklands 40 book, which has now been published and is reviewed in our Book Reviews section.
Meanwhile, campaigner Andrew Cave is seeing success with his project to install memorial plaques at UK dockyards that worked so swiftly to prepare merchant and military vessels for the Falklands. The latest plaque (pictured) has been unveiled at Rosyth dockyard.
Project Falklands MN memories
---
Tags