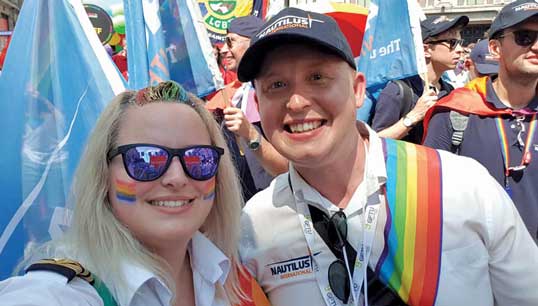 As part of annual Pride month, Danny McGowan, new chair of the Maritime UK LGBT+ Network, and international organiser at Nautilus International writes about the Network's first online event for Pride month, and building a diverse community in a pandemic.
Pride month is an important time for LGBT+ people, and we are pleased to announce that we will be holding our first Maritime UK LGBT+ Network (now Pride in Maritime) online event at 14:00 on Monday 29 June.
The experiences we share throughout our lives are of course not confined to a single month but the now widespread celebration of our diversity in June each year marks an important shift for the LGBT+ community in terms of inclusion.
We would usually see Pride parades taking place in across the UK in summer, but the Covid-19 pandemic has understandably stopped these from taking place. In 'normal' times, Nautilus would by now be finalising the attendee list for Pride in London.
After last year's record number of members and supporters attending with the Union – including a large delegation from the International Transport Workers' Federation and the ITF Seafarers' Trust – 2020 was set to be an even bigger and more exciting year for Nautilus and the maritime industry.
While Pride parades are the perfect opportunity to demonstrate to the world that LGBT+ people are an important part of society, the annual parades are not the only thing that LGBT+ people want and need to see to improve diversity and inclusion.
This year we've had the exciting opportunity to create the Maritime UK LGBT+ Network, which I am proud to be the Chairperson of. It has been a strange period to build a community group – with the Covid-19 pandemic changing the way we would normally develop such initiatives – but the passion we've already seen from individuals signing up to the Network has been impressive.
Through the Network we want LGBT+ people in maritime to share their experiences of the industry with each other and to discuss how life at work can be improved for them. We know that there are lots of examples of good practice within the industry on LGBT+ diversity and inclusion, but as is the nature of shoreside and seagoing workers, it's easy to focus on what's going on in our own areas.
Whether you wish to use the Network purely for networking, or you want to share good practice and contribute to the UK government's Maritime 2050 goal of promoting greater diversity throughout the industry, we want as many people as possible to get involved with the Network.
If you are an LGBT+ person and you work ashore or at sea, in any area of the maritime industry, you are urged to sign up to the Diversity in Maritime LGBT+ Network, where you will receive your invitation to the online event taking place at the end of the month.
Please share this message with colleagues and friends in the industry who may be interested in taking part. If you have any questions about the Network, please email either Danny McGowan at dmcgowan@nautilusint.org or Chrissie Clark at cclarke@maritimeuk.org.
---
Tags