We've had #MeToo, we've had gender pay gap reporting,but what's actually being done about making the maritime workplace more welcoming to female professionals? SARAH ROBINSON reports on an initiative at one of the UK's major maritime employers...
The Royal Fleet Auxiliary has recently exceeded the 7% mark for female seafarers in its crews.
This may not sound like much, but with the worldwide average of women on merchant vessels languishing at 2% - 3%, the RFA is something of a standard-bearer for change.
As part of this change, the organisation is seeking to improve the experience of women working on its ships – with the knock-on benefit that the RFA workplace will develop a more respectful and professional culture for all its personnel, men and women alike.
That's certainly what chief officer Susan Cloggie-Holden is aiming for. She's recently taken on the new role of RFA female champion, and is passionate about bringing seafaring into the 21st century.
Bringing seafaring into the 21st century
'When I joined the RFA straight from school in the early 2000s, you expected it to be male-dominated and just got on with it,' she says.
'But we have a much lower tolerance of harassment and other bad behaviour now, and our head of service – Commodore Duncan Lamb – is determined to improve staff recruitment and retention here by making the RFA the best possible workplace for everyone.'
It was the Commodore's idea to create the role of female champion in late 2017, Susan notes, although not everyone was onboard with the concept at first. 'Some of our colleagues were concerned that it would make females in the RFA feel even more different and less part of the team if we focused on their experience,' she explains.
'But we can't hide from the fact that many women here already are being treated differently from their male colleagues, and we have to acknowledge this and address it if we're going to achieve full equality in future. It's for the good of the whole organisation: I really believe that what we're doing will result in a better working environment for all colleagues, male and female.'
Susan's first step in her new role (which she does alongside her current 'day job' as RFA capability manager) was to contact all the organisation's female staff members to invite them to a working group.
'It was important to get women together from across the service – all ranks and roles – to hear what they had to say and what they wanted to happen. Whatever I do needs to be led by them, and not come just from me.'
Working groups give insights
The first female working group took place in April this year. Held over two days, with delegates given leave to attend, there was a decent turnout of 12 RFA women from across departments.
An important part of the event was for the group to sit down with Commodore Lamb and Captain David Eagles (head of RFA personnel operations) to tell them first-hand about their experiences and views.
'What they heard confirmed the need for the female champion role and the need to shine the spotlight on particular subjects,' Susan says.
'For example, we have policies in place where you're supposed to be able to report bad behaviour and get it dealt with, but it emerged from the group that quite often people don't feel comfortable reporting it.'
It was felt that the training for a chief officer as a vessel's equality and diversity advisor was inadequate, she continues, and this is something the RFA is addressing. 'I sail as a chief officer myself, and it's a bit like being the ship's policeman,' muses Susan. 'It's your duty to make sure all of the ship's company are treated fairly and you're implementing the company's policies correctly, and it was disappointing to hear that this isn't always happening.'
Better training for chief officers needed
Better training for chief officers will help, but having alternative ways for staff to discuss problems is important too: 'Sometimes I think it's just a generational thing, like you don't feel comfortable talking about certain matters to someone who's a bit like your dad!'
Ensuring that all chief officers are acting consistently and fairly will be a long-term training and management issue for the commodore to address, but in the meantime the female working group has tasked Susan to put some measures in place that could make a difference to their day-today lives quite quickly.
The role of social media
'One thing they asked me to do was to set up a private Facebook group where RFA females could share ideas, discuss any difficulties and just chat freely,' she explains. 'Even though we have a higher number of women onboard our ships on average than the Merchant Navy, you often still find yourself in a small minority in a crew, and it's good to make friends and contacts from elsewhere in the organisation.'
Further meetings of the working group are in the pipeline, and Susan will be able to feed into future discussions and action plans by sharing ideas and good practice she has learned from other organisations.
For example, she has been looking at the experience of women in the Royal Navy (for which the RFA is the civilian support service). 'I've been impressed generally at the huge range of career networks they have in the Navy – they're a good way to seek advice and find someone to turn to,' she says. 'The Naval Servicewomen's Network even has an annual conference, and this year's theme was diversity and inclusion.'
Nautilus Women's Forum
Susan is also pursuing other avenues where she can both make a contribution and learn from fellow maritime professionals; she has attended the Nautilus Women's Forum and is involved in the Women in Maritime Taskforce, which is developing a charter to drive greater gender balance across UK maritime industries.
Meanwhile, she is working to let female RFA colleagues know that she is available as that 'someone to turn to' in times of difficulty, and she speaks regularly with the RFA chaplain to ensure her support work is coordinated with his, and that they both provide the best possible advice and information.
The RFA's first female working groups found the need for the female champion role and the need to shine the spotlight on particular subjects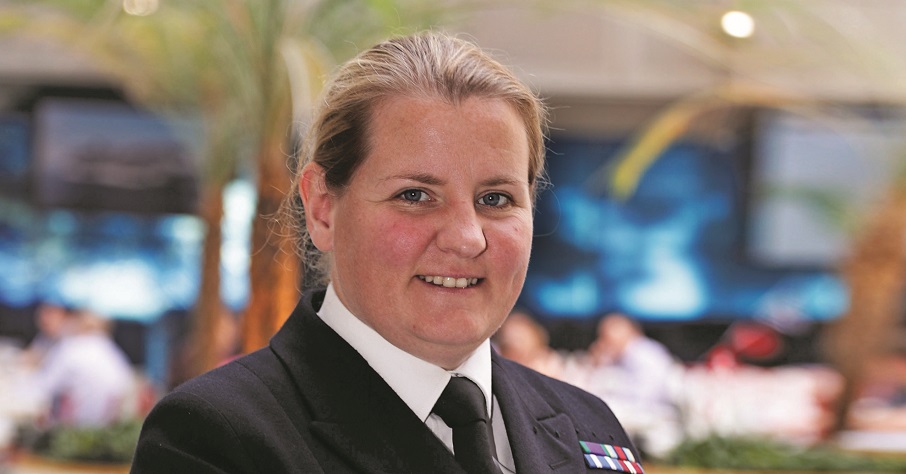 Conclusion: steady progress cause for optimism?
Looking ahead, Susan sees a future of slow but steady progress, with small 'wins' like the RFA women's Facebook group gradually building up and helping to establish cultural change.
'I'm actually very optimistic about this,' she concludes. 'Yes, there are still a few men who don't want women at sea at all, but we're out there right now showing what we can do and pulling our weight. And seafaring actually has a history of being tolerant and accepting in many ways. I think we generally accept people for the way they are.'
---
Tags