Campaigning
Windfarm Visa waiver must end as UK government invests in green growth, Nautilus warns
5 November 2021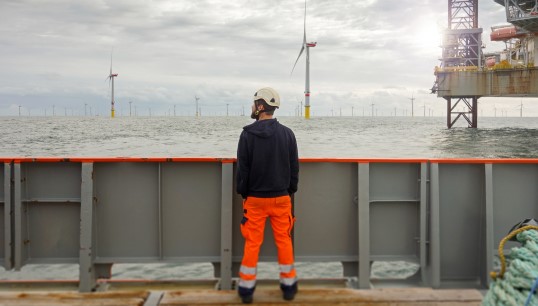 Nautilus International is calling for an end to Visa waivers in the offshore wind sector, after Prime Minister Boris Johnson announced that the government is investing a further £160m into floating wind farm construction and deployment.
'As the UK government looks to expand the country's successful offshore wind industry, it is essential to remove this obstacle to promoting job opportunities for local labour in the sector,' said Nautilus International general secretary Mark Dickinson.
The Union has long campaigned for an end to the immigration waivers, which have been repeatedly extended by the British government. The current waiver scheme lasts until 1 July 2022 and allows offshore wind companies to employ non-UK crew without Visas, typically on lower wages.
Nautilus argues that the practice undermines UK employment and training in the sector.
'There is no credible evidence that we have seen to show a shortage of UK maritime professionals looking to work in offshore wind,' added Mr Dickinson.
'The government has an opportunity here to tie the UK's commitment to green growth to its promised levelling up agenda. By removing the waiver scheme, ministers can promote good-quality jobs for British seafarers instead of continuing to allow employers to resolve their alleged recruitment difficulties by recruiting abroad.
'Taxpayer money is being invested in the zero-carbon agenda – the public expects to see those funds used responsibly, to create good local jobs with fair pay in these sustainable industries.'
The additional cash will come out of a £1.4bn 'Global Britain' investment fund announced by Chancellor Rishi Sunak in the Budget.
---
Tags