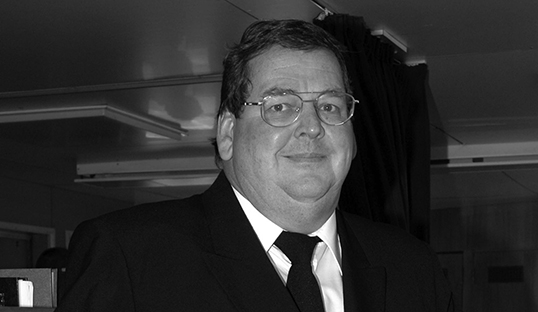 To be taught how to play backgammon by Omar Sharif, and to host and meet with such prominent individuals as HRH Queen Elizabeth II, The Duke of Edinburgh, Nelson Mandela and Princess Diana does not fall to many of us. Yet such events formed a part of the career of David Perkins, who rose from deck cadet to become the last captain of the world's most famous passenger cruise liner, the QE2.
In that role he was always attentive to the welfare of his crew and passengers. He was renowned for his genuine care and empathy, his warm sense of humour, his ability to light up any room with his presence and for always finding time for his family and friends, who spanned all walks of life.
David William Perkins, the third of four children, was born in Kingston, Jamaica on 26 April 1956. His father had sailed out from the UK to take up the position of Director of Public Works and the first five years of David's life were spent on the island.
The rest of his childhood was spent in Grantham and Woodbridge in the UK, and he went to sea with Cunard at the age of 18, carrying out his studies at Warsash Maritime Academy. He took his first command as captain of Cunard's Caronia in 2001, and during his career he served within the Cunard, P&O and Princess Cruises fleets, the Royal Viking Sun, the Queen Mary 2 and as the last appointed captain of the QE2.
For navigating in the Arctic Circle, he was honoured with membership of the Scott Polar Institute, and received a further award following his service during the first Gulf War onboard the Cunard Princess.
David was a keen fisherman, and was known to join the crew as they fished from the mooring decks while in port. Understanding how important it was for the crew and passengers to see the football World Cup Final while docked in Algeria in 2004, he walked to the nearest restaurant and asked to use the TV for the afternoon, later leading a procession of over 80 people to enjoy the match.
Although David spent much time away from his home, he was a devoted family man, having met his wife Lucy through Melton Young Farmers. In 1992, their son Lawrence was born, and David was justly proud of him and his achievements. The family sailed together frequently and enjoyed their time together travelling the world.
David Perkins retired to his home in Bury St Edmunds in 2012 after 39 years of safe navigation. In retirement, he was able to spend time fly-fishing on the Tweed, the Spey, and the Miramichi River in Canada, alongside being an active member of the local bowls club and sailing his 1m model sailing yachts competitively around the UK. In May 2019, David and Lucy celebrated their 40th wedding anniversary on a warm sunny day in their garden, surrounded by family and friends.
Captain David Perkins passed away on 14 January 2021, having lived a wonderfully full and happy life. His untimely death, whilst leaving his family and friends deeply saddened, also leaves warm memories of a man who achieved greatness and who was loved and respected by all.
Terry Waite
This is an edited version of an obituary supplied by the Perkins family which has appeared in full in other UK publications.