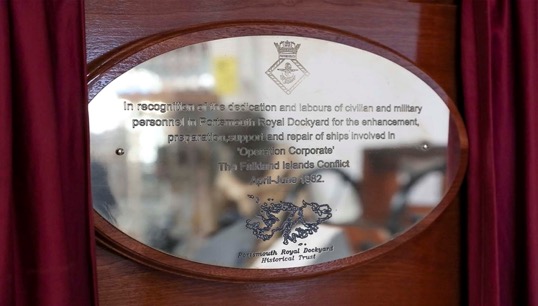 I was wondering if your readers would be interested in the following project. In August 2019 I contacted a Portsmouth MP regarding possible recognition in the form of a plaque for the dockyard workforce at HM Naval Base Portsmouth for all they achieved during the Falklands Conflict in 1982. As a result, the MP very kindly wrote to the Commodore of Portsmouth Naval Base, who was very much on side with the proposals and soon agreed the design and location for their plaque.
When I first contacted Portsmouth, there was no intention on my behalf of contacting other dockyards involved in this conflict, but I decided to research this subject matter further and was amazed by the achievements and sacrifices made by all dockyard personnel to ensure that the Task Force was ready for war.
39 years have now passed since the start of this conflict, and I believe that these dockyard workers, their families and indeed the dockyards have waited far too long and deserve a lasting recognition, as our nation was facing a severe crisis and they played a massive part in the success of the operation.
As a result, I have now contacted all Royal Navy dockyards and former Royal Navy dockyards, and they have started to make plans for unveiling plaques as shown below.
The reason that I concentrated on Portsmouth initially was because I was a 17-year-old sailor serving on HMS Hermes who vividly remembers 2 April 1982, when the then prime minister Margaret Thatcher received news of Argentina's impending invasion of the Falkland Islands. The decision was taken to retake these bleak islands in the South Atlantic and a Task Force was assembled.
A large number of ships including RFA and Merchant Navy STUFT vessels ['ships taken up from trade'] were prepared in a matter of days in the dockyard at Portsmouth. The two aircraft carriers HMS Hermes and HMS Invincible sailed just three days later on the morning of 5 April. I can remember our Captain Lyn Middleton RN signalling the dockyard thanking them for their magnificent support, and this was repeated by other departing ships.
I can also remember being told by one of these dockyard workers after the conflict that many of the jobs that were done in order to make sure that everything was ready for the ships to sail on time would normally have taken weeks but had been done around the clock in just days.
Here are the responses I have so far for the dockyards I approached to install a plaque:
Portsmouth Naval Dockyard – plaque unveiled 30 October 2020
Devonport Naval Dockyard – planning to unveil 2022
Chatham Historic Dockyard – planning to unveil 2022
Gibraltar Dockyard – planning to unveil 2022
Portland Dockyard – planning to unveil 2022
Rosyth Dockyard – started planning
HMNB Clyde – planning to unveil 2022
Ascension Islands – looking into it
Hull – planning to unveil 2022
Southampton – planning to unveil 2022
If anyone would like to find out more about the project or get involved, please contact me at andrewcave82@outlook.com.
Andrew Cave