Maritime non-fiction / History
Thrilling myths, legends and true tales from our maritime past
Castaways Adrift & Abandoned and Mysteries and Sea Monsters by Graham Faiella
Landing page illustration: tentacles enclose a sailing ship, Getty Images
'Strange things indeed are seen in the sea world', wrote Anglo-Saxon poet Cynewulf, and these two works by Graham Faiella examine these many maritime enigmas.
Published as Volume 3 in Faiella's 'Thrilling Tales of the Sea' series, Castaways Adrift & Abandoned is a fascinating look at how crew and passengers survived as castaways adrift after shipwrecks or storms or abandoned on pre-20th century sailing ships.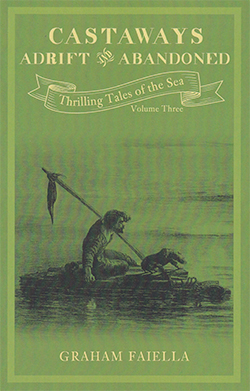 It has useful drawings illustrating the many types of barques, brigs, ketches, schooners, and yawl that fell to misfortune.
Divided into three sections, the first two concentrate on those left adrift on rafts after storms or sole survivors through shipwrecks. It starts with the tale of 66-year-old Shetland islander Betty Mouat, who survived a week alone by lashing herself to the deck, after a storm on sailing packet Columbine cast several crew members overboard.
The last section covers those mid-Pacific 'Crusoes', who found themselves on remote patches of land such as the Pitcairn Islands, the Galapagos Islands and off Hawaii.
Drawings of the islands and creatures newly encountered in their day round out these tales of resourcefulness, luck, and ultimate salvation, as well as letters, maps and newspaper accounts,
Volume 4 of Faiella's series is Mysteries and Sea Monsters – a book in two halves. The first half examines various strange and unexplained disappearances of ships over the centuries. It includes narratives of some phantom ships supposedly manned by ghostly crews such as the well-known but likely mythical Flying Dutchman, and legends of other mysterious deserted vessels such as the Mary Celeste (sometimes known as the Marie Celeste).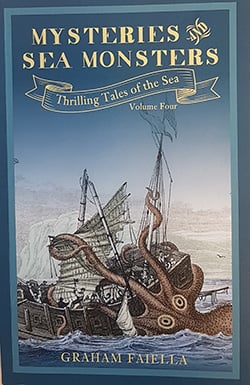 That vessel sailed in November 1872 from New York bound for Genoa with a cargo of oil and 13 crew and passengers onboard, including the captain, his wife, their two-year-old daughter. It was sighted by barque the Deo Gratia on 4 December the same year and didn't respond to signalling. A boat sent to investigate found the crew and all onboard mysteriously 'spirited away' with no sign of trouble or rough weather.
The Marlborough is another ill-fated vessel covered in the book. It left New Zealand in 1890 with a crew of 30 and a cargo of mutton and lamb and went mysteriously missing on its voyage to England. Reports from French newspapers at the time described a macabre discovery onboard a seemingly deserted ship of that name discovered at Punta Arenas near Cape Horn, where twenty human skeletons were found onboard.
More gruesome discoveries abound, such as the clipper barque Ocean Queen bound from Rangoon to Melbourne in May 1876, where 27 crew and passengers were found mysteriously dead with no sign of violence. Sometimes there is a tale of lucky escape, such as onboard schooner Foxdale bound for Finland in 1891. After being caught in a squall it upturned but its crew survived below for two days before the vessel was found – luckily before the air escaped from its decks.
This first half of Mysteries and Sea Monsters doesn't try and prove or disprove theories, but presents snippets from news reports of the 18th and 19th centuries, together with contemporary logbooks and drawings describing the incidents.
The second half of the book is devoted to the numerous sightings of legendary sea monsters, and is a 'kraken' read.
These books are the Nautilus Books of the Month for October 2021, and will be sold at a discount in the Nautilus Bookshop throughout the month.
Castaways Adrift & Abandoned
By Graham Faiella
The History Press, £10.99
ISBN: 978 07509 90868
Mysteries and Sea Monsters
By Graham Faiella
The History Press, £10.99
ISBN: 978 07509 90875
Buy this book in the Nautilus Bookshop
While you're there, why not browse the rest of the titles in our unique maritime bookshop, which sells all the books reviewed on these pages.
Buy now