Maritime non-fiction / Current affairs
High octane hostage story with heart
Between the Devil and the Deep Blue Sea by Colin Freeman
Image on landing page: John Steed and seafarers from the Albedo with a message for Leslie Edwards. Taken from Between the Devil and the Deep Blue Sea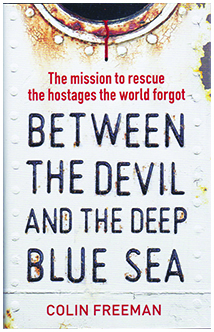 There are many writers who have attempted to tell a true story like a thriller, and it doesn't always come off. But in this powerful investigation of Somali piracy, author Colin Freeman has achieved a real page-turner with a solid foundation in years of research.
As Freeman explains at the beginning of the book, the peak of the Somali piracy crisis was from 2008-2012, during which time nearly 2,000 seafarers were taken hostage. Shipowners started to take out insurance to pay ransoms, and if crew members were lucky, their national navies would come to the rescue. Eventually, it became commonplace for merchant vessels in the Gulf of Aden to carry armed guards.
Despite this, there were by 2013 three vessels whose crews were still being held hostage, abandoned by their employers, unsupported by their governments and unknown to the world. As a Hollywood film celebrated the brave actions of hijacked US shipmaster Captain Richard Phillips, dozens of seafarers on the Albedo, Prantalay 12 and Naham 3 were still enduring what Phillips had experienced – and with little hope of rescue.
It is not surprising to learn that almost all these seafarers were from 'the poorer parts of Africa and Asia', as Freeman puts it. Their employers had not taken out ransom insurance, and their governments had not sent military help. International anti-piracy organisations were stymied by the fact that the three vessels, although hijacked in international waters, were now being kept at anchor in Somali waters.
Seemingly the only person determined to put an end to these seafarers' suffering was John Steed, a British UN worker based in Kenya who set off on a mission to get ransoms paid by hook or by crook and the hostages released and repatriated.
On the way, Steed persuaded numerous other influential figures and organisations to help him, including London-based maritime law practice Holman Fenwick Willan (HFW), international maritime welfare charities, and wealthy benefactors who became moved by the plight of their fellow countrymen.
But although Steed is at the heart of the story, Between the Devil and the Deep Blue Sea is very much not a 'white saviour' narrative. Having travelled the world to interview the seafarers who were taken hostage, Freeman highly effectively relates the actions they took to survive their ordeals and contribute to their own rescues.
One hostage who stands out is Aman Sharma, a young able seafarer who ended up on a substandard vessel after struggling to find a first job for six months following maritime college in India. Sharma was stuck onboard the hijacked Albedo for so long that he managed to learn the Somali language from his captors – an achievement that later proved important in the negotiations coordinated by Steed and HFW lawyer Leslie Edwards.
Freeman also gives credit to family members such as Shahnaz Khan, who with her daughters lobbied hard in Pakistan for the rescue of her husband Captain Jawaid Khan, and even started a fundraising campaign to pay the ransom.
The Somalis who helped broker the release deals are interesting too, and Freeman clearly puts across the impossibility of classifying people as 'good guys' or 'bad guys' in a poverty-stricken country where governance and law enforcement have broken down.
Overall, this is an important story, impressively told by Colin Freeman – a former foreign correspondent of the Sunday Telegraph who has himself experienced kidnap in Somalia – and his knowledge and empathy shine through on every page. With luck, this gripping read will serve to alert the western public to the shocking inequities in the global shipping industry on which we all rely.
This book is the Nautilus Book of the Month for June 2021, and will be sold at a discount in the Nautilus Bookshop throughout the month.
Between the Devil and the Deep Blue Sea
By Colin Freeman
Icon Books, £16.99
ISBN: 978 17857 87027
Buy this book in the Nautilus Bookshop
While you're there, why not browse the rest of the titles in our unique maritime bookshop, which sells all the books reviewed on these pages.
Buy now