Maritime non-fiction / History
Engaging reworking of a well-known story
Titanic 'Iceberg Ahead', by James W Bancroft
In Titanic 'Iceberg Ahead', James W Bancroft weaves together a historical account of the Titanic tragedy, from conception to its destruction, with the personal accounts of survivors of the tragic sinking of April 1912.
Part I: Terror at Seven Bells takes the reader on journey through time, from tales of the Titanic's predecessors to the construction of the vessel itself, filled with omens and premonitions of its fate, including the story of a journalist 'predicting' his own death aboard.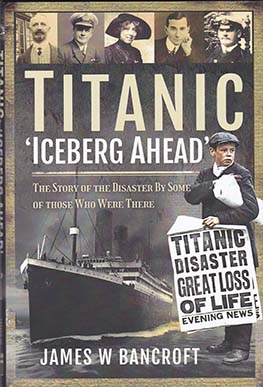 Despite the grim nature of the vessel's history, Bancroft's book is not completely shrouded in tragedy. He shares the stories of the people who came aboard the Titanic, as well as providing images of the ship's grand appearance – it was described as a combination of Mayfair and Bel Air on water!
Part II gives more detail of individuals on the ship, and one story that stands out is that of Kate Florence Phillips. Her companion, Henry lost his life in the disaster and Kate was never the same again. She had a strained relationship with her daughter and spent time in an asylum, although she lived until 1964. It is believed the tragic love story of Kate and Henry and the pendant he gifted her during the voyage – known as 'Love of the Sea' – were the inspiration for the Heart of the Ocean storyline between Rose and Jack in James Cameron's film Titanic.
Bancroft's text is one for the Titanic fanatic, but also serves as a good starter text for someone looking to learn more about the history of the vessel itself. The intertwining of personal stories alongside the historical account of the Titanic brings history to life, making it an enjoyable read.
Titanic 'Iceberg Ahead': The Story of the Disaster by Some of Those Who Were There
By James W Bancroft
Frontline Books, £20.00
ISBN 978 15267 72060