Maritime non-fiction / History
Definitive account of a culture's lost vessels
The Junks and Sampans of the Yangtze by G. R. G. Worcester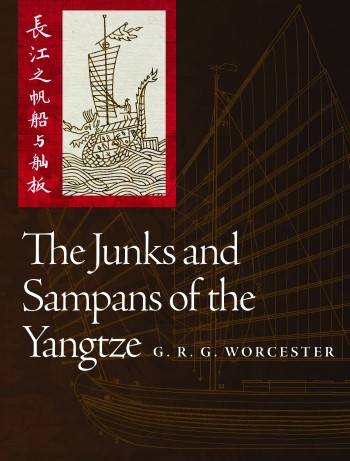 China, with its enormous population and vast distances, has been dependent on transport by water for thousands of years.
During that time, the Chinese civilization created an unbelievable range of specialised vessels, now swept away in the tide of modernisation that has transformed the country into a 21st century powerhouse.
This edition of The Junks and Sampans of the Yangtze – a reissuing of a classic set of texts published in the 1940s – offers the reader a chance to look back at that forgotten maritime world, which took so long to create and such a short time to destroy.
The author, G. R. G. Worcester, was born in 1890 and died in 1969. He served as river inspector for Chinese Maritime Customs for 30 years. During that time, he helped to open the Yangtze river – one of the country's two key waterways – to steam navigation, but he also developed an affection for the classic Chinese vessels that had already begun to give way to more modern craft. As well as writing this definitive text about them, he also helped to build the unique collection of junk models now found in the UK's national Science Museum in London.
Though the text is certainly definitive, it is also a difficult read – partly because it was written in the early 20th century, so it tends to be long winded, but mainly because the level of detail is overwhelming. Worcester begins by taking us back 3,000 years to the very beginning of China's (long) written history, with scratched writing on animal bones that refers to oars and caulking, and goes right through to his own time. You will find reams of detail about everything Chinese that is vaguely related to waterways, including tax collection, clothing, navigation, knots, religion, insurance, tea houses and life among the families born and raised aboard the junks. The complexity of Chinese maritime life and the author's attention to detail are both stunning.
However, overwhelming detail is also where the book really shines, especially technical detail. Worcester exhaustively covers the construction of all kinds of junks, from design to tools and materials. These pages will be especially interesting to those who would like to follow in Worcester's footsteps by building models, as will the many contemporary photographs, illustrations and diagrams.
Needless to say, this is not a book for the casual reader. However, there is a reason why it is considered a classic, and there is plenty of opportunity to dip in for interesting titbits both cultural and technical – for example, that it was considered bad luck to speak while sailing under particular bridges, or that the Chinese were the first to use watertight bulkheads for strength and safety. Certainly, it is a publication for those with a deep interest in the subject, or a love for interesting and obscure nautical facts.
This book is the Nautilus Book of the Month for April 2021, and will be sold at a discount in the Nautilus Bookshop throughout the month.
The Junks and Sampans of the Yangtze
By G.R.G. Worcester
Seaforth Publishing, £40
ISBN: 978 15267 84902
Buy this book in the Nautilus Bookshop
While you're there, why not browse the rest of the titles in our unique maritime bookshop, which sells all the books reviewed on these pages.
Buy now