In anticipation of the autumn publication of the government's regulatory proposal for minimum wages of seafarers in UK waters, Nautilus general secretary Mark Dickinson laments the failure of social dialogue and collective bargaining
The UK has a new Prime Minister who, apart from pledging a 'do or die' Brexit, is busy spending billions – and I am expectant that some of this largesse will find its way to the Department for Transport. The many pledges in Maritime 2050, not least the commitment to establish a Maritime Skills Commission, will need resourcing and funding if we are to succeed.
Whilst we often criticise governments for making too frequent changes to political appointments, it came as a pleasant surprise to learn that Nusrat Ghani has retained her ministerial portfolio for shipping. She lost no time reminding me of the government's commitment to extend the National Minimum Wage (NMW) regulations for all seafarers in UK waters. This is potentially a welcome victory for our campaigning on unfair competition in our domestic ferry and offshore services sectors. I hope, though, it does not turn out to be a pyrrhic one.
Our campaigning for fair pay goes back many years, but it became particularly important when the UK Tonnage Tax with its minimum training obligation was introduced in 2000. After decades of underinvestment in training, the country was never going to be able to crew the expected fleet growth with its own nationals, but we wanted to ensure that non-UK seafarers on UK vessels were protected and had decent work whilst our Merchant Navy officers of the future were being trained. We offered to discuss how best to do this with the UK Chamber of Shipping, but we were rebuffed.
Almost a decade later, the UK's application of EU race equality laws to non-British seafarers brought 'pay differentiation' on UK ships into sharp focus. The Labour government launched a review and in its final weeks in office published the so-called Carter Report. This proposed requiring UK flag operators to pay UK wages to all seafarers. The incoming coalition government consulted the shipping industry on those proposals, and once again, we offered the Chamber of Shipping an opportunity to discuss how best to resolve these issues – but to no avail.
At Nautilus we champion the interests of our members, and ensuring a level playing field through pay fairness is one of our goals. Being mindful of the global nature of the industry and the need for British ships to be competitive, we are of necessity pragmatic. There is no point imposing higher wage standards on UK ships if the competition is not also required to apply them.
We can look to Europe, and our colleagues in the Netherlands in particular, for examples of how strategies and policies can deliver jobs, training, fairness and decent work. Where social partners agree mutually beneficial outcomes by embracing collective bargaining. Where governments prefer to empower unions to engage with employers rather than reaching for the statute book.
Throughout the last 20 years we have repeatedly set out proposals which reflect domestic and global norms and arrangements, which we believe would secure greater opportunities for the employment and training of British seafarers, whilst ensuring fair pay for everyone.
As we await the detail of the government's NMW proposals, the shipowners are in real danger of being hoisted by their own petard by having failed to engage with us. When the industry should be using its resources to support collective bargaining, we will all be using them to interpret and enforce legislation which only sets a minimum hourly rate of pay depending on the age of the seafarer.
In this scenario, the lawyers will benefit. Whilst Nusrat Ghani's commitment to extending the minimum wage to ensure fair pay is welcome and a victory for our campaign work, it is a pity we couldn't have sorted out the issue through social dialogue. A lesson perhaps for the future?
Shipowners are in real danger of being hoisted by their own petard by having failed to engage with us Nautilus general secretary Mark Dickinson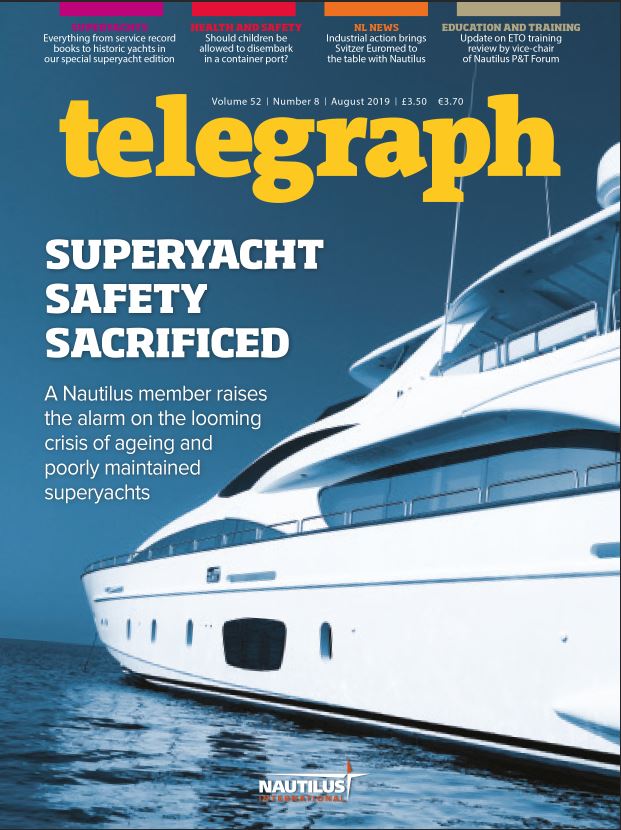 ---
Tags