Careers
Sea to City case study: Rod Johnson – from deck officer to City law firm marine director
16 July 2020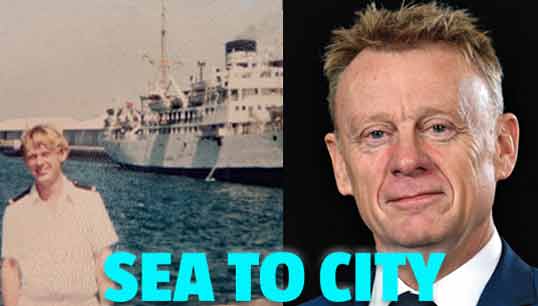 Rod Johnson is the marine director at Stephenson Harwood – 'Not the biggest but certainly the best shipping law firm in the City,' he smiles. He started in this role in January 2020, but had previously worked for the company between 2014 and 2016 as the marine manager.
His current job includes supporting the leadership team in managing the shipping practice and providing marine technical advice to the lawyers, which includes the selection of experts for litigation. 'Most of the work is contentious, so the advice I provide helps the lawyers with tactics and advocacy. It improves the chances of success and keeps the clients' fees as low as possible.'
It's been a long and winding path to get to this point, and Rod describes his start in the maritime industry as a complete twist of fate. 'I grew up in London with no connections of any kind with shipping or the sea. I was a very unsettled 16-year-old, itchy feet, looking for adventure and bored with school. One day, walking into school, I bumped into a classmate who had the P&O brochure in his bag. I borrowed it, read it a million times, realised that engineering didn't suit me and applied for a deck apprenticeship. This must have been around Easter. By October I was in Dubai joining my first ship, and it felt right from that moment on.
'I was very lucky with P&O. Being fed up with school meant that the usual pre sea thing at a college might have put me off. P&O had a fleet of training ships, so I was straight into the job at sea with lectures on Fridays and Saturdays from the cadet training officer.
'P&O at that time was huge, so the opportunity to train in different ship types was brilliant. I did everything but bulk carriers. I liked the reefer trade best of all though, great ports and time in port. My first ship as third mate was the Dwarka. I wish I had stayed longer – she was an amazing little ship.'
Having initially envisaged himself rising through the ranks to command a vessel, Rod found that his 'rebellious nature' didn't really suit that path. But going ashore seemed unattractive too. 'I had no clue about what it would be like, just the odd tale of guys becoming unhappy policemen or double glazing salesmen.'
However, events soon forced his hand. 'Two things sent me ashore: romance and the recession in the mid-1980s. It really was appalling to see the mighty British Merchant Navy hollowed out in a matter of 18 months, and the new opportunities foreign flag seemed uncertain and risky. So I decided to sit it out for a bit with my new-found love. There were some coasting jobs and a spell with Trinity House, but in the end my bank manager insisted upon regular income. I joined HM Coastguard.'
Rod ended up spending 25 years with the Coastguard. 'The first few years were in search and rescue, but then I moved into VTS, criminal investigation, ship survey, port state control and finally ended up in charge of the service.'
We all suffer from imposter syndrome to varying degrees. Mine is severe. So to be asked for advice and have it acted upon by clever and expensive people is rewarding. Rod Johnson, City law firm marine director
So how and why has Rod now ended up as the marine director of a City of London law firm? 'In 2012 I was feeling burned out and started looking for life after the Coastguard. Luckily, I bumped into a friend of a friend in recruitment. His advice to me still resonates. He said that my CV should show what I could do, not what I'd done. He also said that with a Master's ticket and a solid maritime background I could head into the knowledge economy, and by then I knew something about City jobs from old shipmates I'd been in touch with.'
Since then, he says: 'It's taken about seven years to really establish my personal brand. It's going really well and I'm comfortable enough with it to feel able to give others a helping hand. The best bits are the realisation that I actually know what I'm talking about. We all suffer from imposter syndrome to varying degrees. Mine is severe. So to be asked for advice and have it acted upon by clever and expensive people is rewarding.'
Now that Rod has become involved in the new Nautilus/Maritime London Sea to City initiative, what would he say to seafarers considering following in his footsteps? 'If you are thinking of coming ashore into the City there's some questions you should ask yourself. The first is: "Am I marketable?" If you don't have senior experience and – crucially – diversity of experience, then perhaps not, or not yet.
'Also ask: "Do I have enough cash to survive for six months?" It could take that long either to establish yourself or find a post. That first salaried job will probably be a transitional one, so go for something that will develop you.
'Finally, think: "How will I stay fresh?" The answer to that is by getting involved in professional bodies and industry initiatives and carefully building a professional network. Keep your CPD [continuing professional development] going.'
to talk to Rod Johnson or other mentors about aiming for a City job after working at sea, please contact the Sea to City initiative at campaigns@nautilusint.org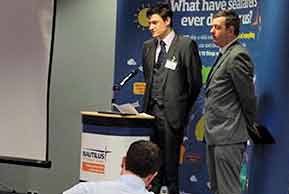 UK branch
Bookings are now open for the Nautilus UK Branch Conference on 24 November 2020. The first half of the day will be an official Union policy-making meeting for UK Nautilus members.
Register online now
---
Tags